People
Antariksh – The Journey of a Promising Hindi Rock Band
By |


Who says that rock music and the language Hindi do not get along? Have you heard of Antariksh? If not, read on and get to know them. If yes, then explore and find something more about them. Who knows you might stumble upon some unknown facts about the band or simply get blown away with their music.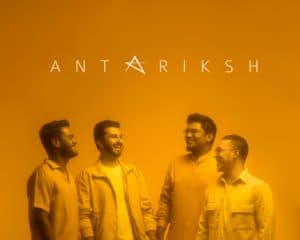 The Band
Antariksh, a premier Hindi-Rock band from New Delhi, was formed by Varun Rajput during his college days. This multitalented musician is not only the lead singer but also a fabulous music composer. The band gained immense popularity among the masses as they catered to various authentic genres and were instrumental in bringing these styles to suit the listeners who loved mainstream Hindi music.
This four-member band is one of the finest rock bands in the country whom you will remember for their LIVE electrifying performances which leave the audience enthralled. The level of their energy and interaction with their audience can hardly be matched. No wonder they were rated as one of the best Hindi Rock bands from India by MTV.
They have etched their name on the global platform performing world over including Mauritius, Madagascar, Nepal, US, UK and India with over 700 live shows in their kitty. But achieving all this was certainly not an easy task and they have had their share of hiccups as well. Let us know their journey together in their own words.
In their interaction with The Songpedia when they were asked about how the band was formed and what was their inspiration, Varun Rajput, the lead guitarist and vocalist said that he personally liked all sort of music but in particular during his school days he used to listen to Michael Learns to Rock. Further when he heard bands like Dream Theater, Iron Maiden, Deep Purple, Porcupine Tree, Pink Floyd that's what inspired him to pick up the guitar and form a band. In the later years that is during his college days he started jamming and performing small gigs along with bands like Feedback and Under Siege. And these gigs inspired him to form his own band which he eventually did in 2012 along with his friends Mridul and GT, and this is how Antariksh came into being. However in 2014 Mridul and GT had to walk away from the band owing to personal responsibilities nonetheless they still remain very good friends till date.

The Boys
Apart from Varun the current band comprises of Shrikant Biswakarma on guitars, Joshua Peters on Keyboards and backing vocals, and Dan Thomas on drums. Dan joined the band in 2015-16. Earlier he used to play for a band called Delhi Indie Project where he was spotted by Varun who was playing a session with the said band and after few gigs Dan formally joined Antariksh.
For Joshua it was a New Year's gig in Chandigarh that introduced him to Varun, when both were playing with a mutual friend for his band and that's when he was invited for a couple of rehearsals with Antariksh as they were looking for a keyboard player. Impressed with his performance he was asked to join the band. Though initially he thought that he was not the best option, he is glad of being accepted by Varun as a member of the band.
Shrikant recalled that he was approached by Joshua when the band spotted him as he was featured in The Great Indian Metal Jam 2017 started by one of his friends. The band invited him to join as they were looking for a guitarist. It was very easy to connect for Shrikant with the rest of the band as they had a common taste in music. And that's how his journey with Antariksh began.
When asked how their musical journey began Varun said, "I am actually a self taught guitarist, composer and producer – I used to play tabla and harmonica in school but never learned tabla formally." Whereas Joshua said, "Singing with his church choir as a little boy is how my journey began. I received most of my early training in the church as an active participant of the music group. Participating in several gospel competitions/ concerts as a singer and an accompanist through most of my teenage years made me realize my passion for music. I've been training in western contemporary vocals for 7 years now. And have been also trained in Western classical piano for 5 years." It was quite a similar journey for Dan as he says, " I was born and brought up in church environment. I used to listen to the church choir practice every week and just watch and learn. I used to practice whatever they practiced every week. My brother taught me the basics of drums and then I picked up some of it on my own, until I joined a music school in 2014. I was trained by one of the best drum instructors in India, Manoj Mavely."
And Shrikant's journey, whose father is a musician, started at home. He says, "I grew up listening to a lot of classical music and ghazals. I got my first guitar when I was 14 but ended up becoming a drummer at 16. But since 18 I developed a great interest towards guitar (again) and have been learning and playing since then." Speaking about his formal training he says, "I started learning from my brothers at home and for a few years didn't have any formal training. But after coming to Delhi to pursue music as a career, I joined Delhi School of Music and learnt the classical guitar under my teacher, Tej Gurung."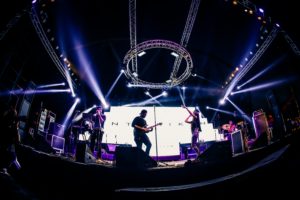 Their Inspiration
Every band has their own favorite artists, who inspire them and to whom they can listen to at any point of time. For Varun it is Daniel Gildenlöw of Pain of Salvation. Shrikant mentions, "There are many songs that I can listen to any time but some of the bands/artists I can always listen to are Mr. Big, John Mayer, Tom Misch, Stevie Wonder and Sting."
Joshua seems to have a similar taste as well as he says, "I think Coldplay is a band that I can listen to at any time. And John Mayer of course." On the other hand Dan says that, "I don't think I have like all time favorites, like I can't listen to the same music I was tripping on last year. For me Music is very progressive, I like to hear new music with fresh sounds." Currently he is listening to Kaytranada, Jacob Collier and Nerve. While on the conversation of favorite songs and bands Varun adds that one song that he wishes to perform together is "Take The Time" by Dream Theatre as it is a challenging song to perform live. Whereas their favourite song as a band is "Aisa hi hota hai."
Their Motivation
During these times where every group of four or five "musicians" come together they form a band and sometimes they do get some recognition from the audience. So when asked what motivates them to keep going on amidst these mushrooming bands, Varun said, "I think the basic idea of creating something is very motivating. It gives a sense of fulfillment. And the very idea of presenting the creation in front of the audiences is very gratifying."
Joshua adds, "I think we all do this because this is what we love. We love to make music. We like to come together and share ideas and build on those ideas and make a song out of it. And then to play it out to people. And because the main intent is to make our music and share it with people we really don't care about the competition. From the marketing and the business perspective we do have to think about competition out there but that doesn't change the fact that we love to do this and will continue to do it no matter how hard it is." Dan says, "My goals keep me motivated to keep playing drums amidst this competition, for me I don't demotivate myself with what's happening around me, in fact I take it up as a challenge to be better and aim for excellence. I could be a little competitive that way."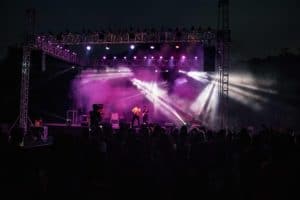 Their Memories
These are the things that keep them going individually and as a band and they have formed a bunch of fond memories together but one of them stands out where they were performing at a concert and the audiences started singing along with them and they were louder than the band which for any artist or a band is a proud moment. Another one was when they toured Mauritius and Madagascar, which was their first international tour, where they performed 5 gigs and got immense response.
Their Goals
Talking about the future projects Varun says,"We have an unnamed album which is in the mixing stage right now. And we also have collaborated with one of the world's best guitar players whom we are not at liberty to name right now." The band is quite excited regarding these projects and they are aiming to release at least 3 albums in the next five years. They also want to do more and more international concerts.
Currently they are connecting with fans in the lock down via Facebook and Instagram Live. Varun says that, "Although there is a huge difference between performing live in front of the audience and going live on social media as an artist thrives on the energy of the audience. We were overwhelmed when we got a similar kind of response when we went live on social media in the form of likes and other emojis."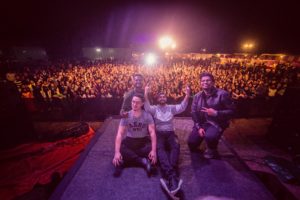 Their Creation
So this has been the journey of the band so far from convention concerts to digital performance. Though the band has reached many milestones they say they have a long way to go and reach every nook and corner of the country. Looking at their energy and potential we definitely get the vibe that they are raring they go.
In order to continue their pursuit and overcoming challenges, given the unpredictable circumstances, since making a living as a musician is expected to get trickier the band is exploring new avenues. Recently they have started a Patreon community to fetch some support for continued creation where fans can contribute voluntarily. Varun says, "We want to continue creating new music, put out a full album this year and create high quality videos. I thought it'd be a good idea to build a loyal community of supporters, friends and family who find value in what we do and can help support us in this endeavor."
We at SongPedia wish them all the best for their future endeavors and we hope that they continue to entertain us with their unique style of music.
Bonus

pics courtesy: antariksh.in