People
When Bobby Talks Cinema
By |


Did You Know?
The ageless Guide and its English version?
The spiritual connect in Silsila and Rab Ne Banaa Di Jodi?
Bertrand Russell in a Hindi film cameo?
Neecha Nagar – the first Indian win at Cannes in 1946?
No this is not any quiz, these are the facts stated in the book Did You Know by Bobby Sing!!! Sounds interesting? Then give it a try, as the book says, Picture Abhi Baaki Hai, Dost. The book contains 51 interesting facts about Hindi Cinema compiled by Bobby Sing, its Sing and not Singh. Says Bobby, "Its actually associated with beginning of my career as a singer. It has nothing to do with any numerology or else but it simply denotes singing with the word Sing – meaning Bobby Sing as Bobby Gao. It was like an innovating introduction tried which stayed with me as the official e-mail too, in the later years having a Singh without the usual h".
Bobby Sing in conversation with TheSongPedia!!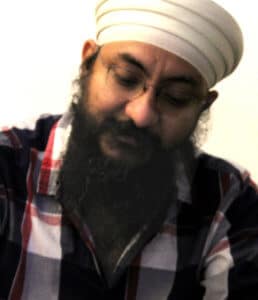 Bobby Sing – Author: Did You Know
With the real name Harpreet Singh, his affair with Hindi cinema began when he was nicknamed Bobby, inspired from Raj Kapoor's cult classic Bobby (1973). His association with music began when he was just a toddler. He says, "The first association with music was right from the Nursery days when the music teacher in my school (a noble lady) took me in the junior choir and then she taught us music for the next 8 years till I shifted to a Govt school (from a well-known private one) due to the distance issue (was too far) and some personal reasons".
Sharing some of his initial memories he adds, "Music was with me right from the beginning and films were a passion as we neither had any colour TV in home nor a VCR which was a big craze in the 80s all over. So watching a movie as early as possible post its release used to be a sort of achievement in those days for me and all friends around. However the scenario completely changed when I shifted from the far off private school to a nearby govt. school from 9th Class onwards, which was an afternoon school with timings of 12.30 to 6.30pm – perfect to watch two back to back shows and returning home innocently. So it all began from bunking the classes then which later was known to every teacher of
mine and relatives too. After a while they even stopped calling my name in roll calls on Fridays as there was no chance of me being in the school that day irrespective of the releases whatsoever. Was caught several times by relatives and friends in the intervals of films resulting in severe punishments at home and school too. As a result, got the filmy tag in the mid-80s itself and by the late 80s people used to come for first show tickets at my home especially for all Amitabh Bachchan films released at the nearby theatres. We used to have a theatre on either sides of our home, just 300 meters and then had 4 more within a distance of only 2 kms. So they were like second home to me on Fridays since the 80s".
"Music came back in life in the college days when we started doing Bhangra and singing stage shows in the evening and night, post the college hours. Was never interested in any job, hence started taking coaching classes too as an Economics teacher in the 90s and continued for around a decade just to keep the passion going involving music, stage shows and movies without opting for any normal 9 to 6 job. The next major change came in around 2000-2001 when I got associated with Nupur Audio – a leading music company in Delhi and experienced a lot there making, designing, compiling, mastering music and movies together meeting stalwarts of Hindi film music, Punjabi Pop Music, Classical music and more importantly Pakistani Artists we used to adore since years. In that decade till 2008, released two Hindi films Piano instrumental albums of my own, a few remix albums of Hindi films songs (as that was the trend those days) and did a few remixes of some lesser known Hindi films too, along with winning ETC SUFI MUSIC AWARD in 2007 for best compiled and mixed album featuring all known Sufi artists".
For all those who might be wondering about bunking classes and not studying, Bobby Sing is a double graduate (B.Com – Hons, B. Ed) and has a double Masters degree too (MA in Punjabi, MA in Religious Studies) plus has got light classical music training from Late Pt. Kailash Pawar Ji.
He began writing his own blog Bobby Talks Cinema in 2004, where you can find all the movie reviews, articles, discussions on music and cinema etc.
"I was completely into music and movies working with Nupur Audio making instrumental music, Karaoke tracks, new recordings of Punjabi pop, compilations and video mastering of old classic films making their VCD-DVD sleeves too for 6-7 long years constantly. And within that time came the DVD revolution in Delhi around 2003-04 with DVD libraries and online rental portals opening new avenues. Now both the DVD sleeves and the online portals required a short 1-2 paras of description for the films in their catalogue and I started writing the same as a friendly gesture first, before they started paying too seeing the positive response. Began my own blog around that time only in 2004, which later got converted into a complete website in 2007-08 and then kept writing for many online portals and magazines too on regular basis as had already seen all movies and written about them before. Reviews of new films were demanded by one of these portals only and I was already doing the same though in a different smaller format at my own site. However it all got bigger as a passion just because of the response I thankfully received from all readers, professional websites and publishers. And it is these energetic responses that keep me going much more than the miniscule money involved even today".
Switching his career from a stage singer to a writer wasn't really difficult for him. It was just a matter of choice and quality. Says Bobby, "This might sound weird, but as a singer doing stage shows for about 6-7 years, what I frankly hated the most was that we never got to sing what we wished to sing on stage and mostly had to sing as per the public demand and requests unconditionally. Moreover in mostly Punjabi shows it was really awful to keep on singing same songs or song again and again for several times as a drunk guest was too fond of a track and
kept coming on stage with loads of money in hands. I personally hated that happening repeatedly almost every week and thus decided to get involved in music-making and music-album activities instead of performing on stage feeling the humiliation from 2000 onwards. Punjabi and Indi Pop was the in-thing in the late 90s and thus there was enough to do behind the stage where there were not many professional people having a quality vision."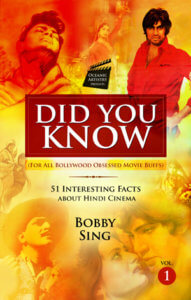 Being different in this field makes a person somewhat lonely for Bobby Sing. He opines, "It actually feels lonely in this field, as firstly I am the only one in my family living with music, movies and books. Plus mostly people writing about current movies, reviews and articles are doing it with a clear buttering or biased kind of motive looking at their personal association, jobs and benefits. Doing it differently, at times my reviews become
too harsh and that is the reason they get dropped or severely edited by the magazines or sites (with my consent of-course). In the past have been writing for a few major start-up Bollywood portals like Chakpak.com, an Indo-American Magazine published both in Chandigarh and Canada, Network 18 for their News18 website apart from writing from my own site and working as creative consultant with a couple of music companies and film-producers".
Being a spiritual person from his early days, it helped him remain firm on his principles even at the beginning of his career. With no one in the family or friend circle to guide, no one to support and no one interested either in what he doing, it was like he was being guided and taken to every right place by the destiny itself at the right time without any hurry. Problem was that there was no success in material terms. But the teachings of Osho helped him a lot guiding and to enjoy the present instead of waiting for something to happen in the future. He has been a part of the rise of many big names from the Delhi Punjabi music circle of the 90s but would not like to name here. In fact that has been his
lessons of life right in the early 20s. Influence of music has enhanced his dedication towards his work.
Getting nostalgic he says, "In Hindi films there is a long list but instantly the names coming to my mind are Madan Mohan, Khayyam, Shankar-Jaikishan, Laxmikant Pyarelal and Rajesh Roshan. Certainly in random order and a lot more too in the long list. In non-film music I was and am known to be a mad-fan of Ustad Nusrat Fateh Ali Khan and had made hundreds of friends in the 90s by distributing his rare recordings in cassettes to people coming to my home for the same. Mehdi Hassan, Jagjit Singh and Ahmed Hussain-Mohd.Hussain are the other names I have always loved since the school-college days".
He also shared an interesting story in connection with his craze for Ustad Nusrat Fateh Ali Khan –
"I would never forget the day when we (a group of friends) sneaked into the performance of Ustad Nusrat Fateh Ali Khan in Delhi's SAARC event at Pragati Maidan through the backdoor washrooms and then met him personally for a few minutes in the green room taking the autographs, post an exceptional performance. To our surprise he had personally seen us singing and dancing throughout the program and was keen to meet us too and had already requested the organisers to bring us in. Rahat Fateh Ali Khan was so young then and they were all surprised how we had the lyrics of their every famous qawwali on tips. This was way back in 1996 and the very next year the maestro sadly passed away. And then it was a blessing to compile his maximum recordings for Nupur Audio some 6 years later and now it feels great when I see my compiled Mp3s being sold all over India on even the highway dhabas".
He also remembers some memorable moments working with Bally Sagoo, Reshma, Daler Mehndi, Mika, Rahat Fateh Ali Khan, Ashok Mastie and many Punjabi singers of those times. "As a rare share, it was so divine and meditative to sit in those 6 hours when we recorded the flute by Ajay Prasanna in a Delhi's studio with Bally Sagoo on his innovatively remixed track of Aap Ki Nazron Ne Samjha (which doesn"t have a normal beat). One old person, a guest present in the recording was literally in tears post the session and said that "I had always regretted not going to Bombay in that golden era. But today I think I got a glimpse of that divine feel of the masters in these few hours."
Talking about his work in the present Bobby summarises, "I am writing for my own site, as a creative consultant with Frankfinn Entertainment in Delhi where we are mostly making Devotional Punjabi (Gurbani) Albums on regular basis. Have been associated with the company since 2008 with their first produced Punjabi film Sat Sri Akaal. Was the creative consultant, publicity visualizer and promo designer for the film. Lately have been associated with some Punjabi film projects too at writing stages."
"I also had a great experience while recording my own albums of Piano instrumental music and just last month I heard my album being played in Delhi's Delite single screen theater in the interval and this was post more than 15 years of the album released way back in 2002-03. A great satisfying experience indeed for an artist".
Enjoy the piano tracks played by him –
For a prolific thinker and writer like him it is natural to get motivated by self analysis. He further adds, "In my opinion, I think I am going too slow in coming up with new unusual articles and there is so much to write already there in my mind and as short notes lying in the folders of my hard disk.
This "so much to write" feeling constantly keeps me going and motivates to do more every single day. And almost every week I feel I could have written more – much more and have wasted a lot of time".
So, what made him choose the subject for his book Did You Know and did he choose those 51 facts mentioned in the book, since there are so many more anecdotes and many more different stories regarding Hindi films?
He informs, "In India we started publishing books on the subject of Cinema post 2005 in the real sense. Before that you had to search for books on cinema and there would be very few and in those too many out of print or not available. Later post 2010 so many books started coming out on regular basis but they were all of a higher level or stage, for readers who already knew the subject well in a kind of tough and mature cinematic language. They were surprisingly no books for the age group of 15-30 for the youngsters who don"t really know anything about the cinema before the 90s and it is very difficult to convince them to watch those movies quite honestly. So I wished to come-up with a series of books which is not heavy in content and creates enough interest to the youngsters for knowing the cinema of the past and its rare
achievements. In other words, a sincere attempt to become a bridge between the younger generation and our golden era giving them clues about many worth watching movies of the past raising their curiosity level with a title as DID YOU KNOW. For the same reason I divided the book into three parts as before the Cable revolution in India (before the 90s), post the cable revolution and then the new millennium. And sharing the response I am really glad that many youngsters even went back to watch films like Do Dooni Chaar, Jhoola, Aman, Shor, Zakhmi Aurat and a lot more after reading the book only".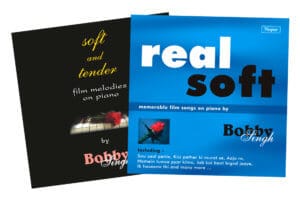 Instrumental Music Albums by Bobby Sing
Executing the book itself was not an easy task. He recalls, "I had no support or guidance either financially, professionally or morally. The publishing field in India is nothing short of an elite mafia wherein you are treated like simply nothing by the big publishing houses and there are no chances for a newcomer unless you go through an agent or have a highly influential contact to reach them. Actually they are more interested in
books on cinema by big present names or the family members of the dead masters (to be straight) having that authentic stamp helping them in marketing the same. Moreover, even if you are able to crack that all, still the waiting period for the responses is so long to the level of depressing and demoralizing which really breaks any new, energetic writer taking the excitement out of the project in just a few months. So instead of paying an agent or making rounds of visits to various publishing houses in Delhi, I decided to do it myself through a self-publishing partner putting all my savings into it taking the big step. Exactly the same I had done in the music field too by singlehandedly performing and producing the piano instrumental albums and then offering them to the company for an official release. This trend started much later in the music field of self-producing the albums and then approaching the companies after almost a decade post 2010. Here I would like to add, that the expenditure and effort put in both the music albums and the book was never done for any return or profit motive. It was sincerely done to prove myself, my learning and the vision to the world without even slightest of hope of making profits, which is in fact too difficult in this format considering the insufficient
small returns coming from major portals such as Amazon, Flipkart and more. Luckily my book DID YOU KNOW was also the first book of my publishers Notion Press in Chennai on the subject of Cinema or in the genre of entertainment. So they excitedly went with it too supporting me in every possible way. And the book was received well with even selling decent copies abroad. Thankfully it was in the Top 20 best sellers list
of Amazon repeatedly in the first two years and still manages to reach that spot at times selling respectable copies every month even in the third year of its release in 2017".
He also made a promotional video for the book all by himself –
Talking about his future projects he says, "The second volume is on the cards, will try to come up with it in this year itself. Wish to take the young friends more deeper into the past gems after preparing them for the same through the first volume. My website is coming up in a new avatar as per the changing trends as now the websites are being read and checked mostly at mobiles and portable devices. Again I have spent all my saving on the new website up gradation which by the way has got no advertisements at all, so its no money making activity again contrary to what many people have in mind. Am into Script consultancy and doing a couple of projects in Punjabi Cinema. Wish to do more such projects in Hindi too soon as the enquiries are coming in. Contributing to many music projects professionally and keeping in mind the responses to my earlier works, may be will come up with more instrumental versions of old Hindi film songs as I till date keep getting mails asking the same from friends who had bought my first two albums".
Music and writing has enriched his life in more than one way. Bobby quotes, "This blessed enrichment can actually understood by only those who are into the same kind of writing following their individual passions. There are two kinds of writings in the present scenario.
1. When you are writing on order, which doesn't necessarily lead to any enrichment in real sense. That is on requirement of your employer or associate as per the latest happenings or during certain events, dates (like NEWS clippings). I am mostly not into it as truly find it
hard to write long obituaries and remembrances on deaths, anniversaries or more. I personally find it like disrespecting the artist remembering him or her for some dates and not for his works to be very honest. So I avoid writing on such particular occasions. At times that is the reason why the routine weekly reviews also become hard to do watching many poor and unimportant films.
2. When you are writing as per your will, without any control at all, which is so enriching.
When you are writing on a topic of your own choice waking up in the morning following no instructions of any kind from anyone. That is certainly a gift and a blessing enriching your life like nothing else. And next when those writing reach many like-minded friends giving their heartfelt responses in comments, that provides the much needed encouragement required to keep it going in high spirits."
Bobby's message to the music lovers and readers –
"I repeatedly keep giving this message to everyone around inspiring them to make a habit of reading and listening music for at least 30 minutes or one hour every day without doing anything else (putting the phone on silent). But more importantly I always insist on learning one musical instrument in life. It can be anything from a simple bongo to dholak, tabla, harmonium, piano, banjo, flute, guitar, sitar anything even keyboards but without making it a profession and staying away from computers. Because just one hour spent with your musical instrument without any money motive or any will to impress someone is capable of transforming you completely making you realize that this life is so short, so small and thus cannot be lost in greed, lust and competition – living in a sleeping mode."
Bobby Sing, a creative writer, a passionate musician and a film buff who believes in this dialogue of Shahrukh Khan from Om Shanti Om (2007) – Kehte hain ki, agar kisi cheez ko dil se chaaho to puri kayanat usey tumse milane ki koshish mein lag jaati hai.
TheSongpedia looks forward to more such books from him!!
Cheers
HIS BLESSINGS
(In his own style)