Events
Celebrating The Legends – Amit Kumar UK Concert Tour 2016
By |


22nd Oct and 23rd Oct 2016, are etched out in music lover's hearts, courtesy the fantastic Ganguly brothers, Amit Kumar and Sumeet Kumar. Those 2 days when sons of the renowned Indian singer and actor Kishore Kumar, performed at two sold-out concerts on 22ndOctober 2016 at Logan Hall, London and 23rdOct 2016 at DMH in Leicester for their tour: Yeh Shaam Mastani. UK saw one of India's legendary music personalities – Amit Kumar, who was accompanied by his equally talented brother and an accomplished singer Sumeet Kumar, pay rich tributes to the Indian music legendaries – Rajesh Khanna, R D Burman and Kishore Kumar. The UK 2016 Concert Tour was arranged by Indra Travels and Rock on Music.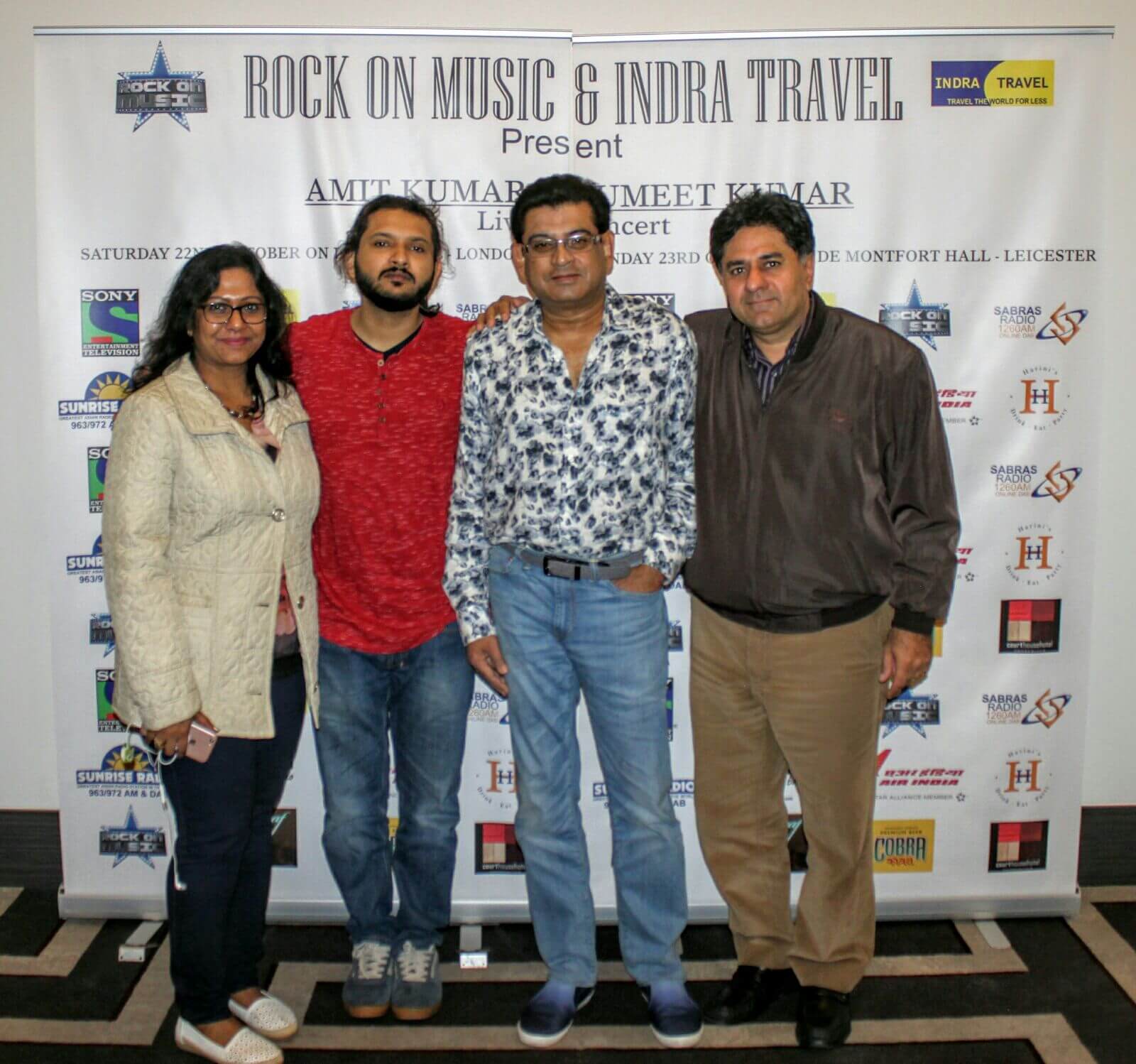 From L to R: Shailaja Subramanian, Sumeet Kumar, Amit Kumar and Suresh Kumar
Amit Kumar, who was introduced on screen by his father in his directorial debut, Door Gagan Ki Chhaon Mein (1964), played the role, of a young boy who has lost his voice, flawlessly. He later entered playback singing and enthralled the audiences of 80s and a part of 90s. Years later, on stage his voice sounds the same. It is crisp as it was in the 80s, it has oodles of romance in it and it is deep and resonating, which goes straight in your heart. During the same concert, Amit Kumar also paid tributes to legendaries such as K L Saigal, Mohammed Rafi, Mukesh, Manna Dey, Hemant Kumar and of course Kishore Kumar.
Following his father's and elder brother's footsteps is Sumeet Kumar. With several bollywood songs to his credit, Sumeet Kumar, idolizes his father and brother in singing. His cheerful and energetic face with a dimpled smile and his deep, clear voice wins your heart for sure when he sings on the stage.
Both the brothers captivated and charmed the audience in London with their entertaining singing. Amit Kumar has a very active and enthusiastic fan following across the globe, both young and old. All of them come under one roof with a forum called Celebrating Success of Amit Kumar. His fans and followers had another reason to cheer up during this London tour. Amit Kumar achieved a milestone by being recognised as the first Indian artist to be awarded an esteemed accolade for "50 Years of Contribution to Indian Music" by the House of Commons. The event was organised at the historic Houses of Parliament in Westminster, London – the seat of the UK government. The honour was like the icing on the cake.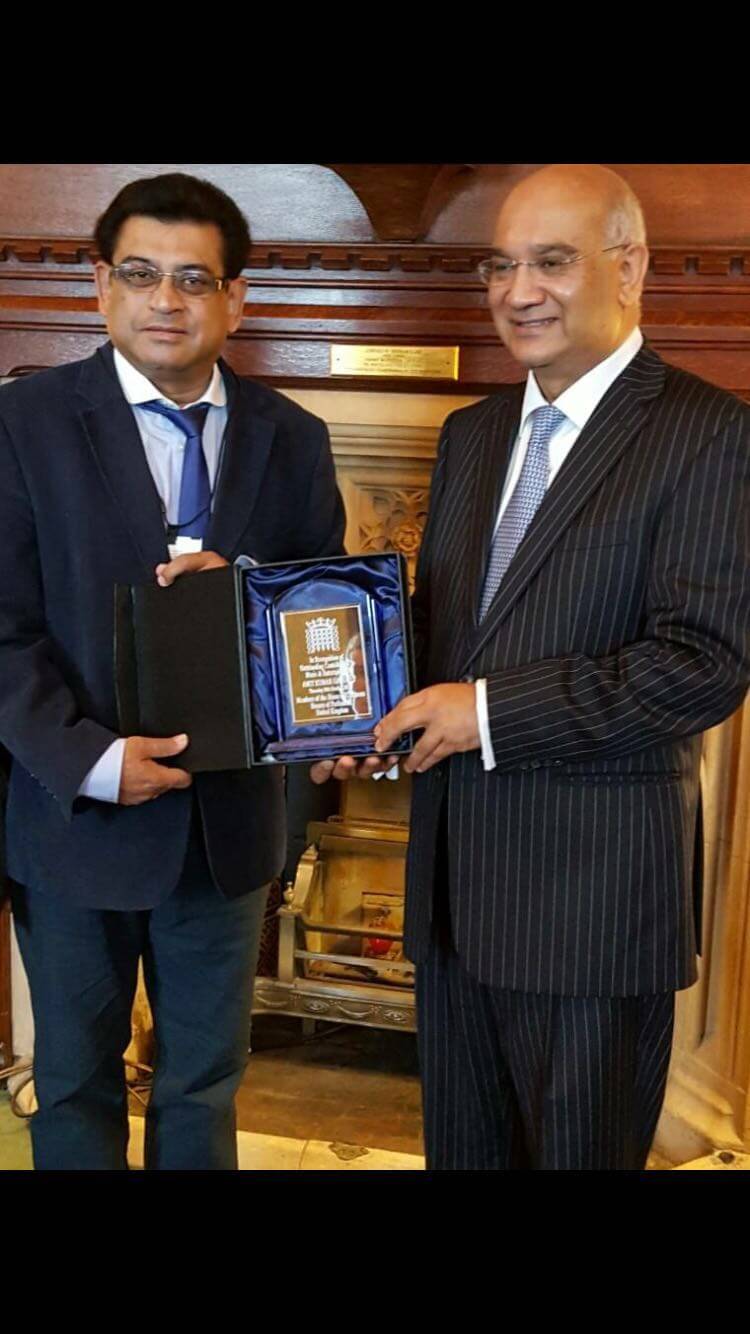 Amit Kumar with Keith Vaz (MP)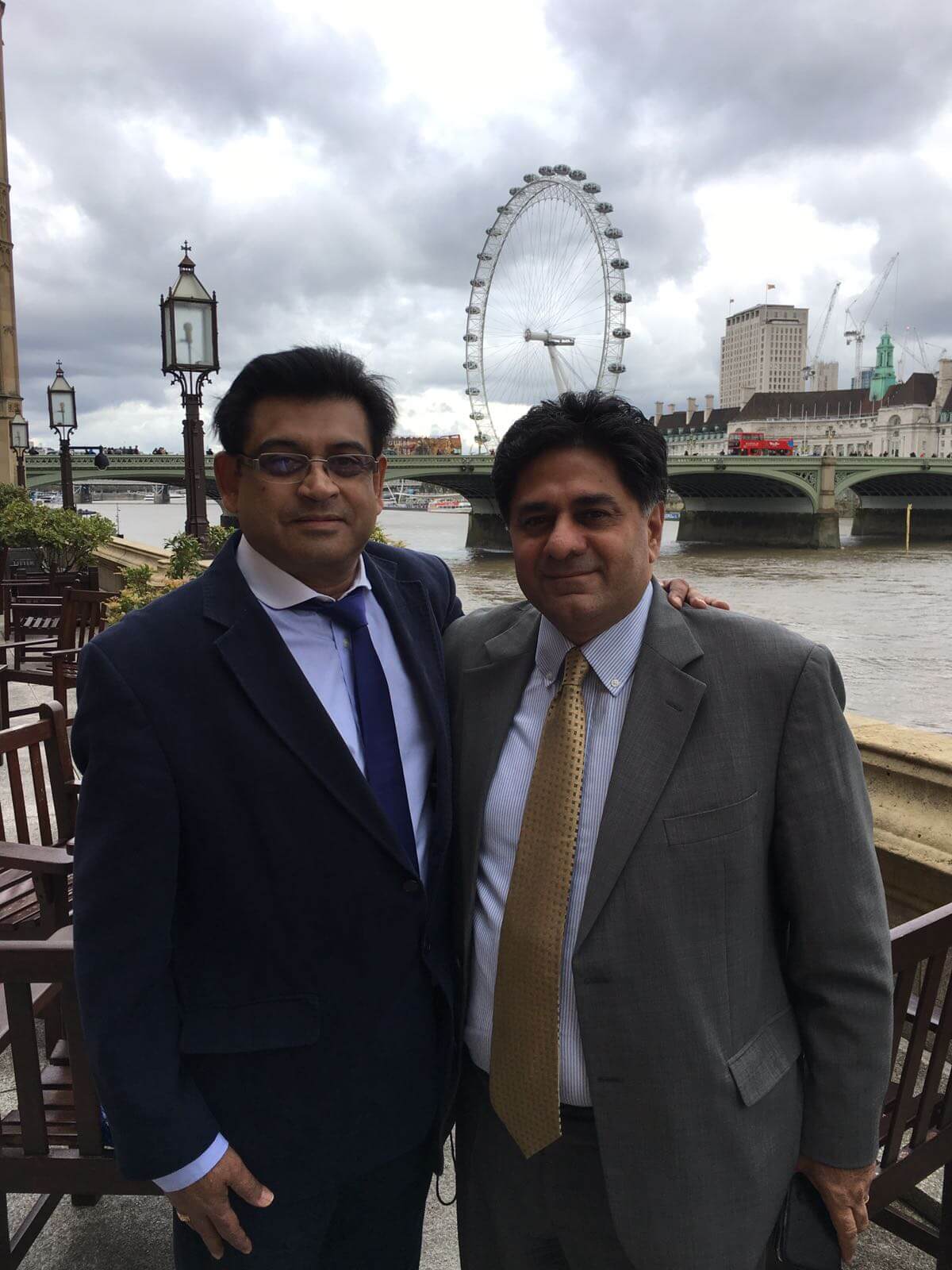 Amit Kumar with Suresh Kumar on the terrace of House of Commons, UK Parliament
Post his London tour, Amit Kumar gave an interview which was executed by Mr. Suresh Kumar, Chairman Indra Travels and also the organiser of this event. Mr. Suresh Kumar has also initiated the Mission Bharat Ratna for Kishore Kumar.
We bring forth his candid interview post the UK tour!!