Legends
Contemporary Moon of the Silver Expanse – Devika Rani
By |


Lineage-wise she was the great grandniece of the nationalist and Nobel Laureate Rabindranath Tagore. Often described as the "Indian Greta Garbo", she was also instrumental in giving breaks to some Hindi film greats like Madhubala, Mumtaz, Leela Chitnis, and of course, Dilip Kumar. She is also credited to singing the first ever English song in a Hindi film (Karma 1933) a bi-lingual film, shot both in Hindi and English.
Devika Rani Chaudhuri, famously known as Devika Rani, was born on March 30, 1908. She went to study at Southampton School in London, won a scholarship at the Royal Academy of Dramatic Arts. Initially, she also did some odd jobs in German studio. The jobs ranged from assisting the film maker Fritz Lang to holding the make-up tray for the Hollywood beauty, Marlene Dietrich. Devika Rani learned different aspects of film-making in the UFA Studios in Berlin. Himanshu Rai, her future husband, was impressed with her skills and approached her to join the production team of his forthcoming film, "A Throw of Dice". She started assisting him in areas such as costume designing and art direction. She travelled to Germany for the post-production work and learnt various aspects of film-making, including a special course in acting.
Devika Rani made her acting debut in "Karma", opposite her husband Himanshu Rai. The film was jointly produced by people from India, Germany and UK. Though this was her first acting role, she gave a confident, seductive portrayal of a princess in love. It was a perfect debut where she completely overshadowed her husband. This bilingual 'Karma' , was released as 'Naagan Ki Raagini' in Hindi. Devika Rani is also attributed to having the first kissing scene in a Hindi film. The kissing scene, involving Himanshu Rai and Devika Rani, lasted for about four minutes and is considered as one of the longest kissing scenes in a Hindi film till date.
During the screening of Karma, Devika Rani was honoured by an invitation of the B.B.C. at London to act in the first television broadcast in Britain which was relayed throughout the country. She was also chosen to inaugurate the first B.B.C. broadcast on the short wave length to India. Referring to Karma and its release in London, The Star, the evening tabloid proclaimed, " Go and hear English spoken by Miss Devika Rani. You will never hear a lovelier voice or diction or see a lovelier face. Devika Rani has a singular beauty which will dazzle all London".
Post this film, the couple came back to India, decided to make more films and thus, 'Bombay Talkies' was born in 1934. And so began one of the greatest partnerships in Indian cinema. Jawani Ki Hawa (1935), the studio's first production, was unique in that it was shot entirely on board a train as it muffled along between Bombay and Lonawala, a picturesque hill station. Her co-star was the handsome Najamul Hussain. Overwhelmed by his charm, Devika Rani eloped with him during the making of Jeevan Naiya, leaving the film incomplete.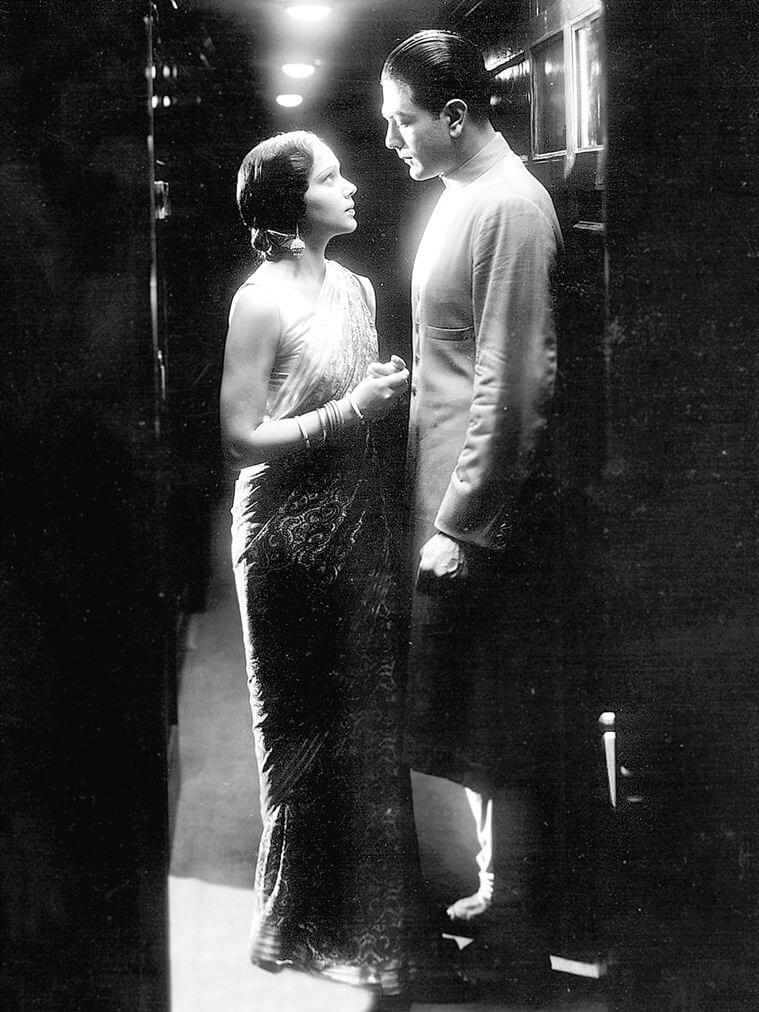 She was brought back by her husband and "Jeevan Naiyya" was completed with the then laboratory assistant and a reluctant actor, Ashok Kumar.
During her spell, as an actress, she starred in 15 films, majorly opposite Ashok Kumar. Amongst which, "Achhut Kanya" is considered a "landmark" in Indian cinema as it challenged the caste system in the country. Achhut Kanya in which she played a beautiful untouchable girl brought her a letter of appreciation from Pandit Jawaharlal Nehru.
"Achhut Kanya" provided stardom to Devika Rani as well as Ashok Kumar. Post this film, Bombay Talkies came up with several films which showcased the plight and dilemma of the Indian woman. Jeevan Prabhat (1937) saw a reversal of roles, with Devika Rani playing an ill fated upper-class Brahmin woman. Nirmala (1938) dealt with the agony of a childless woman. Durga (1939) encased the life of an orphan. With films like Janambhoomi (1936), Savitri(1937), Vachan, Anjaan (1941), and Hamari Baat, Devika Rani climbed great heights as an actress and a star in all these woman centric films.
Following Himanshu Rai's death in the 40s, Devika Rani took charge of Bombay Talkies. It went through a lot of amendments under her leadership. In order to stop abrasions of her empire she took some calculative steps which in turn gave her the name of "Dragon Lady". Bombay Talkies, was known for its discipline and innovation, under her leadership. Kismet (1943) gave Indian Cinema its first anti-hero with shades of grey and Jwar Bhata (1944) introduced another idol of the Indian cinema, the legendary Dilip Kumar. With things becoming erratic in a few years in the company, Devika Rani decided to say goodbye to the silver expanse. She met the Russian painter Svetoslav Roerich and settled down with him in Bangalore.
Considered as one of the most colourful personalities of India, Devika Rani was a gifted artist and was well versed with the techniques of film making as well. Despite being an actress of the 30's, she was most accomplished and contemporary in every sense. This star nay the moon of silver screen remains immortalised through her path breaking ways and works. The first recipient of the prestigious Dadasaheb Phalke award, this bold, beautiful, charismatic, doe-eyed, unconventional beauty is rightly given the title of the 'First Lady of Indian Screen'