Events
"Gajanana" Song Launch- Bajirao Mastani – Grandeur Epitomised
By |
Just as the State of Maharashtra convokes itself for the grand 10 days Ganesh festival Sanjay Leela Bhansali has launched his first song, 'Gajanana' from the magnum opus, Bajirao Mastani.The first look of Ranveer Singh from the 'Gajanana' song from Bajirao Mastani. This Ganpati aarti that has been sung by Sukhwinder Singh has been launched today. Bajirao Mastani is the most awaited movie from Sanjay Leela Bhansali. He had originally Salman and Aishwarya in his mind for the role when they were at their prime. Whether Ranveer, Priyanka and Deepika would fill up the shoes, time will tell!! Sanjay Leela Bhansali has created an intense, emotional and exquisite work of art of historical veracity.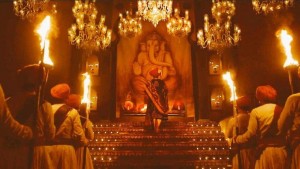 The master of theatrics, Bhansali, had himself set a lavish stage for the launch of this powerful arati "Gajanana" in the grand Balewadi Stadium Pune. This event, the biggest in the history of all song launches, is a tribute to Ranveer Singh's character in Bajirao Mastani. Composers Ajay Atul have modified the traditional Ganesh Arati in Marathi and given it their own spin. The tune is catchy and will instantly appeal to the listeners. It transports us to the golden bygone era. Bajirao Mastani is a period drama set in the 18th century, about the Maratha warrior Peshwa Bajirao I. Given Bhansali's repertoire of making larger than life films with appealing location, incredible costumes and spectacular scenes.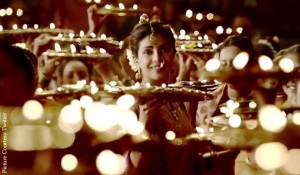 The song was launched with the biggest human formation of a mosaic image of Lord Ganesha which is of 195 ft huge, curated from the 'Gajanana' song. Over 5000 students from across the country have been called on board to create the magical Lord Ganesha mosaic.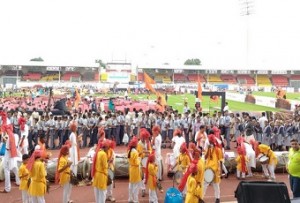 The film is slated to hit theatres on 18 December. However, the audiences will have to wait for the video of the song. Hopefully, the wait will be worth & will attract the audiences as it is doing to the listeners!!!
Check out the audio of the song at – http://erosnow.com/#!/music/album/1038704/bajirao-mastani