Startups
GanaBanana – Creating Custom Music for Every Occasion
By |


How did you think about the idea of starting this?
(From Kushal Jaju's perspective) I was always the creative type. Since childhood, I was known among friends and family for crafting unique poems on special occasions such as birthdays, anniversaries or even weddings. Later I developed a keen interest in music and merging the two arts just came naturally. This led me to think about the idea to transform my art into a venture. We drive inspiration from people's emotions, relationships and joyous moments. Hence, our tag line for GanaBanana is 'You be our story, we'll be your music'.
We are a young team of avid musicians with a strong passion for all forms of music. We believe that adding music to anything increases its appeal multifold. In today's world where the focus has shifted from just gifts to personalized gifts, we felt there was a need that could be fulfilled by combining the two aspects – music and personalized gifting – to provide made-to-order songs.
How did the team get together and what strengths do they bring in?
Our common interests got us together – we all connected with each other through jam sessions, music clubs, etc. Just like our musical instruments, our aspirations struck a chord too and we all decided to work together.
Can you tell us more about the team?
Kushal Jaju (The Creative One)
The mastermind behind all our lovely tunes and melodies, Kushal is our in house composer. He is a self-taught Pianist and has a strong passion for learning new instruments. His understanding of music and the emotions portrayed by various instruments guarantees a song for every ear.
Surabhi Jaju (The Not-So-Creative One)
Kushal's elder sister and the backbone of our organisation, Surabhi handles the finances and other operations. Her love for numbers ensures the sanity levels of our creations are maintained. Her presence in the team also ensures that a non-musician opinion is readily available for our compositions.
Ravi Shirol (The Bridge)
Stand up Vocalist, sit down Manager; Ravi creates the perfect balance between The Creative One's ideas and The Not-So-Creative One's numerical restraints. Being a classically trained vocalist and a marketing enthusiast, he takes care of the market statistics and the music dynamics simultaneously. Together with Kushal they cover a wide range of genres suited to every taste.
Tell us more about what you do
We tell our clients' tale with personalized lyrics and a fresh tune; a unique expression of their emotions in a soulful rhythm. Imagine if you could make every special occasion even more delightful with a song made exclusively for that moment/person! We think here's why songs are better than any other gift for loved ones:
1. It goes much beyond a 'gift in a box'!
2. An eternal gesture! (No expiry date)
3. Nothing says you love someone like a full-fledged, made-to-order song.
How do you differentiate yourself compared to other folks in the market?
Art has no boundaries and we love to experiment. No two people can make the same song or write the same poem or come with the same tune. So being in the business of 'creating art' itself is a big differentiator.
We encourage new musicians too to collaborate with us. In fact, we hope to create a platform for independent musicians who wish to pursue a career in this space and need support.
How has been your journey so far?
We officially started in Dec' 2014, and in a span of 17 months we have worked with over 20 clients and the response has been phenomenal. Word of mouth has been our biggest support and we thank each of our clients for supporting us in so many ways.
Tell us few customer stories which you feel proud of
Our first order came from a loving wife from Bangalore through our Facebook page. She wanted to gift her husband a song for his birthday. This song was literally made in one day! She was a good sport and gave us a freedom to make a funny yet emotional song.
Our first international order was by a very enthusiastic guy who had written a beautiful poem for his wife & wanted a song composed for her to sing. In the process, the song came out so well, he decided to invest in making a single by a singer of his choice. This song is now playing in Atlanta Jazz Radio Station in Atlanta, Georgia. It is also selling on iTunes under the record label Innoplex Media.
Other than these, we love each and every story we have come across, a daughter's love for her dad, amazing bond between two best friends, and so on.
We have also catered to various corporate clients for customized background score for their videos, theme songs, jingles etc.
GanaBanana.in Jingle:
Where do you see this going in few years?
We hope to bring the beauty of music to everyone through our personalized songs. We also plan to have a very artist friendly studio where the imagination can run wild and create some great music. In near future, we are going to make video blogs for an Indian brand of organic personal care products.
Any special moments you have had in this journey?
In August 2015, we were presented by an opportunity to compose and dedicate a personalized song for Ustad Taufiq Qureshi on occasion of Guru Pournima. This was done in collaboration with Get Artistes and Hridgandha Productions.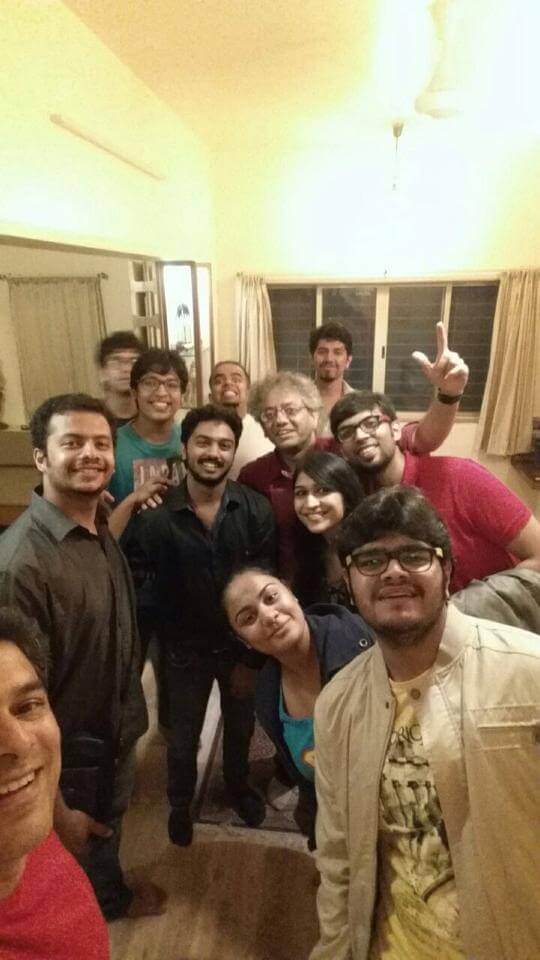 Link to some of our music: