People
Music Itself Inspires Us – Lahu-Madhav
By |


Hard work and patience always pays and pays handsomely. Who can understand this better than the upcoming and emerging music composer duo Lahu-Madhav! From performing on stage to composing music together, their bond of friendship has come a long way. Making their debut in 2012, the duo have been providing quality music for Hindi and Marathi films. Here's their story as they narrated it to us.
TheSongPedia in conversation with the promising music composer duo – Lahu-Madhav.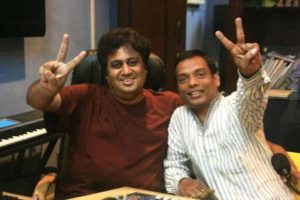 1. Tell us about your memories of your first association with music. How did music come in your life?
Madhav : We both are from Mumbai. We met each other in college during the late 80s, and connected over our mutual love for music. As for me, I have had no formal training in music. My mother used to sing, but I lost her when I was seven. Around a month after her death, I saw a cousin of mine playing the song – Jeevan ke har mod pe on the harmonium. I just memorized the keys, and started playing it. Within days, I could grasp the mechanism of notes, and play any song at will. I guess it was a natural gift. Lahu, on the other hand, is a classically trained singer.
Lahu : My first teacher was my father. He used to sing and play the harmonium, and I used to follow him.
2. From where and when did you start formal training?
Lahu : It took some time for me to reach the stage of formal training. I was born in a middle class family. When in school, I had a teacher, Miss Joshi, who encouraged me to sing. I started singing in stage shows, while completing my graduation from Ruia College. During college, I believed that I sang very well, and I did not need any training. But we had a teacher named Mrs.Bhide, who made me realise that I need to be open and need to learn music the right way. She sent me to my Guru Shri Vinayakrao Kunte. He initially refused, but I insisted, and he agreed to listen to me. When I sang, maybe he saw something in me which made him agree to train me. I consider that as a turning point in my musical life. He taught me classical singing. My father used to teach that to me, but I found it a bit difficult. Vinayakrao Kunte made me understand the concepts thoroughly. I acquired the knowledge of Raagdaari, understood the importance of Riyaaz, got exposed to vocal training in the true sense. I understood how to sing, and more importantly, how not to sing. I owe my music to my Guru Vinayakrao Kunte sir.
Madhav : Lahu trained very hard to become the accomplished singer that he is today, whereas I never had any formal training. I spent most of my childhood in school hostels. But I had a keen sense of listening. And I learnt from whatever songs I could listen to. I heard all the composers and learnt on my own. I was especially interested in R.D.Burman. His songs taught me a lot. But meeting Lahu in college was one of the most remarkable things to happen to me. We connected instantly, and his knowledge about classical music added to my experience. I started understanding Raagdari, Chalan, Maatra…he is indeed my Guru first, then a friend, and then a partner.
3.What marked the beginning of a music composer? Was it always on your mind?
Madhav : As far as I was concerned, I had decided in college itself that I wanted to become a music composer. That was when I and Lahu both became friends. Lahu used to sing my songs. We did a lot of work as a composer-singer duo during the 90s. In those days, I had begun my struggle in the industry, but Lahu used to work in a company due to financial reasons. But he used to sing a lot in various stage shows. He was one of the most sought after stage singers then.
Lahu : The unstable nature of the music industry did not allow me to jump in then. Singing in shows, apart from my passion for singing, was also a medium of earning income. Madhav used to tell me to take the risk. I remember, during one of our recordings, the great composer Kuldeep Singh ji also advised me to leave my job and take up a full time career in music. But for me, job was a monthly security. It was only when I got an offer for a long overseas tour that I had to leave the job. This was in the early 2000s. That started a string of overseas tours to countries like UK, USA, South Africa, Dubai, Israel etc. I would like to mention that during those times, I did do a solo composed Gajhal Album called "Aaj phir Barsaat Ne". But most of that period was of singing and touring. In all this, I and Madhav were always together, and music was our bond. It was much later, in 2011, when Madhav and I decided to come together as a music composer duo. That was the start of Lahu-Madhav. We began with the Hindi film "Rajdhani Express" and followed it up with our first Marathi film "Dhyaas".
4.What motivates you everyday to keep composing?
Lahu : Our idols like Rafi sahab, Latadidi, Ashatai, Kishoreda, Panchamda, Sudhir Phadke, Hridaynath Mangeshkar, Madan Mohan…and classical stalwarts like Pandit Bhimsenji, Pandit Jasrajji…all these are our motivations. They inspire us.
Madhav : Music itself inspires us. It fascinates us. The very fact that we are creating something is a very big high. But while composing for films – we must admit that the biggest motivation is the Film itself. The situation, the characters, the emotions – all play a huge role in motivating us to match them with our world of the seven notes.
5.Tell us something about your association with various artists.
Madhav : We have worked with many artists. It is difficult to list all of them. We work with new and old singers, experienced ones and inexperienced ones. What is common is that all of them give their best to the song. We have worked with newcomers as well as known singers like Shaan, Sonu and Kunal. But without doubt the experience that we really cherish has always been with Ashatai. Each time we meet, there is something new she teaches us. Her dedication to the song, and more importantly, her enthusiasm is something that we are in awe of. Let me illustrate this with an example. When she sang our first song, she had actually asked us to first deliver the song to her house. She heard it, studied it, practised it and then came to the studio to record it. We did not need to rehearse with her, even to tell her the tune. She knew it by heart when she walked into the studio. No other well known singer has ever done that with us.
Lahu : That was truly an experience. Even singers like Shaan and Sonu – one can see their wholehearted involvement in the song that they are singing. I remember how Sonu himself suggested a Sargam to be added to his song. It was not originally planned. But he felt like adding it to enhance the ending of the song, and he himself composed it too. It showed his attitude of giving his 100% to the betterment of the song. I guess this is what sets them apart from other singers.
One more experience we will always cherish was during the music release of one of our films. For reasons best known to the producers, we were made to sit in the 4th or 5th row in the audience and not on the stage when the music was released. The legendary Yashwant Deo was the chief guest. When he heard the songs, he was so full of praise, that he personally insisted to meet us, and called us on the stage to congratulate and bless us for the music. It was a high point in our career, being blessed by such a big legend.
6. Your parents'/family's role in your journey.
Lahu : Family's role is important, but in my case, I was born and brought up in a chawl in the seventies. I used to sing at the local events like pooja and other festivals. My family was happy about it. But that was it. In those days, parents were not as ambitious as they are now. Nowadays we see parents being supportive and sending their children to classes, and for reality shows etc. Some are even ambitious about their child, which sometimes they overdo. But in my case, my parents just knew that I used to sing. They praised me, but there was no encouragement in terms of making a career. It was my own struggle, and support from people I met. I remember I used to sing a lot of songs of singer Arun Date, and considered him my unseen teacher. One day I got a chance to sing his songs in front of him. When he heard me, he praised my singing, but asked me why am I not trying to sing my own songs? I was asked the same question by singers like Shailendra Singh, Manhar Udhas, Suresh Wadkar and also Annu Kapoor. This made me think, and I started composing my own songs. After marriage, I also got the unflinching support of my wife Pooja. In fact, it was she and Madhav who convinced me to be a part of Lahu-Madhav.
Madhav : (laughs) That was a plot I and Puja had hatched. I was after him for years, right from college, but he was always apprehensive. But after his marriage, I got a partner in crime – his wife Puja. I talked to her and then she nagged him no end to agree to team up with me.
But much in contrast with Lahu, my family was always very supportive in my venture. My father, though initially a bit apprehensive about my choice of career, eventually gave his full support and guided me. My elder brother Atul and my sister Rupa were and still are my biggest friends and guides. I remember, in my very initial days, whenever I used to feel dejected, he used to pat me on the head, embrace me, and always assured me that he was there with me, rock solid. That thought itself was such a huge strength. And then, after marriage, it was my wife Hemali. She is an amazing woman. My biggest strength. I believe that family and friends are vital to your career if you are an artist – whatever the field may be!
7. What type of songs do you like to compose?
Lahu : Film music has a speciality. The plot, the characters and the situations decide the genre. A film may have a western number, or a folk song, or a classical song or a rap…as per the requirement of the film. And when we compose them, it is like our child. Now, how does a mother say which child she likes more? We love each song that we compose. We try to be a better mother with the next child. The journey is still on.
8. How is regional cinema music different from mainstream Hindi music? Which one do you prefer?
Lahu : This is a very good question. There are a lot of aspects where the difference can be seen. Both are music, and music is common…the seven notes are common. But the trends vary. The kind of music that a regional audience loves and a national audience likes may have a small common ground, but when you look at it from a broader perspective, what may work in a Marathi film with Marathi audience, may not impress a Punjabi or a Bengali music lover. For example – in a Hindi film, the trend may be western with a Punjabi flavour to lyrics. A Tamil villager from the interiors of Tamil Nadu might accept it in the Hindi film, but the same man may not identify with that kind of a song in his own Tamil film. So every language has its own taste. We have to consider that. Experiments are always welcome. But one should know how much to indulge. One more very important aspect is the financial angle. The budget of Hindi films is much bigger than a Marathi or a Gujrati film. So, though the basic composing talent is the same, the passion is the same, but we need to make compromises while executing the song recording. Hindi gives us the freedom of going for better hands, better technology, and better execution without any monetary constraints…or with far lesser monetary constraints than in regional cinema.
Madhav : I agree with Lahu. Our hands are tied with the budgets of regional films. In Hindi, we can afford top class musicians and technicians…even singers. On the other hand, in Marathi films, our creativity gets a free hand from the producers, which is generally not given in Hindi films. I guess that is the price we pay for being a "business" industry. I believe that the importance of meaningful lyrics is still alive in Marathi. In Hindi films, it is a rarity. It is more about the groove and the feel of the music. It is not that we do not have good lyrics in Hindi. Lyricists like Irshaad Qamil and Amitabh Bhattacharya are doing a lovely job…but considering the vast output, the percentage of such meaningful lyrics is less, as compared to Marathi films. On the other hand, the huge impact of Hindi is something which cannot be ignored. So if you ask us, we love to compose in regional cinema due to creative freedom, but Hindi gives us a much bigger budget to put wings on that creation, and of course, a much bigger reach than regional. And every artist craves for appreciation. So Hindi songs are definitely preferred for their appeal to a much wider section of music lovers. Marathi is our mother tongue. We think in Marathi. So it is closer to our heart. We love composing in Marathi. Apart from that, we have also composed for a Gujarati film. The logistics vary, the culture differs, the trends matter- but other than that, the emotions are the same. The notes are the same.
9. You compose, you present live sessions, you make music videos through your vlog. Which one is your fav?
Lahu : The Facebook and Zoom Live sessions we did was a fall out of the COVID pandemic. We both felt that as citizens, we owed it to fellow citizens to contribute in our own way. The purpose of those sessions was to entertain people and encourage them to stay at home. Many artists from our industry did it. There was no commercial gain or professional motive in it. It was simply our way of giving back to the society what we owed them. Hopefully when we come out of this pandemic situation fully, the real interactive auditorium live shows should thrive once more, where we can be face to face with our listeners. Talking of the traditional auditorium live shows, one needs to understand the basic difference here. Composing is a thing which comes from inside. It is like a spiritual experience. Live sessions are interactions with listeners who are outside. Both have their own high points. Composing is inward going. Live sessions are outward going. Composing is like meditation. Live shows are exhilarating. Composing is where emotions are converted into songs. Live shows are where songs are converted into appreciation. One is the beginning of our creativity. One is the much needed end point where our creativity reaches our God – the listeners.
Madhav : How nicely put by Lahu! And this appreciation is very much essential to an artist. It is our fuel. Many times, due to many reasons, the songs do not reach the audience. It may be because a particular film got shelved, or the producers did not market it properly, or anything else. This frustrates a creative person. That was the reason we started our own YouTube channel – Lahu Madhav Originals. To reach our listeners directly, without any hurdles.
10. How do you balance the work between the 2 of you?
Madhav : We have a system of working. Every music composer duo has it. It is not possible to function without dividing the work. And this division has to be strictly obeyed. So in our case, Lahu is the chief composer. And I take care of the arrangement, This is not something new. This was done by all composer duos like Laxmikant Pyarelal, Kalyanji Anandji and others. A system helps in giving the optimum output.
Lahu : That does not mean that we do not give suggestions to each other. We suggest, we discuss – Madhav gives me suggestions in composing, I give my inputs in his arrangement. It is basically teamwork…as the name suggests. Lahu-Madhav.
11. How do you balance yourself with these multitasks? Your inspiration in all your works?
Madhav : Multitasking is not difficult. Because when you read Lahu-Madhav, there is actually a whole team working towards the end result. Our rhythm Arranger Hitesh Prasad, our musicians, our music producers – all chip in with their suggestions and inputs. A song begins its journey from the pen of a lyricist and as it goes ahead, people join in.
Lahu : And we love composing and creating songs. So it is not difficult. One of the most multitasking people in the world is the lady of the house. But she herself never feels the pressure, because she loves doing it for her family. It is the same here. Once we love our work, we start enjoying it. And our listeners are our family. Music binds us. Talking of inspirations, in all the great names we took in the earlier question, we believe that our listeners are our biggest inspirations.
12. What is your take on today's music? About the remixes or the much westernized songs?
Lahu : It is not bad. Why shouldn't today's generation not take music to the next level? However much the previous generation may hate it. Music constantly changes according to the times. One should accept it.
Madhav : Yes. Before our generation…in the 40s and 50s, we had a different approach to Film music. Sehgal sahab was the superstar. Rafi sahab, Mukeshji, Kishoreda – all followed his style of singing. Latadidi followed the style of Noor Jahan ji. Then all of them evolved. They experimented on their own approach and developed a different unique style. R D Burman has also taken a lot of older tunes and created them as per his own era of the seventies. That was Panchamda's interpretation of what his predecessors did. The other day I was listening to a Tamil song from the film Thenali, where A R Rehman has come up with a rhythm which is strikingly similar to Panchamda's song "Ek ladki ko dekha". That is Rehman's interpretation of what Panchamda did. Today, so many millennial kids follow Rehman. That is their interpretation of what Rehman did. I think this is the way forward. So we should not snub our noses at today's music. It is an artist's interpretation of what he sees and hears. It is his right.
13. Fond memories you would like to share about your fans or the artists you have worked with or any other.
Lahu : There are many. All our artists teach us something. The younger new artists teach us through their enthusiasm, and the senior artists teach us through their experience. And with each lesson we become more enlightened, and feel more humbled. But there is one memory we always share about Ashatai. I think Madhav can tell it better.
Madhav : Ashatai is an extraordinarily simple lady who is simply extraordinary. When we were recording the song "Tujhya ni Majhya" for the film Dhyaas, we were actually taken aback with the kind of questions she asked us. Normally a singer asks us three questions. He asks us about the words, the tune and the situation. That is all. But Ashatai asked us whether the song is during the day or night. She also asked us if it is indoors or outdoors. She had specially asked us to call the heroine of the film to the recording. She chatted with her and observed how she talked, her gestures, her hand movements. And when she sung the song, one could close the eyes and see the song with the character. It was a lesson in playback singing.
14. What are your future projects?
Lahu : Talking of Ashatai, we were going to record another song with her for a Marathi film when this Covid crisis came in. She had heard the tune and had agreed to sing it. But it never happened as the nation went into lockdown. The song is written by Guru Thakur and is ready. She just needs to dub it. We are waiting for her to start work again, which we are sure she will do soon. She is one of the most enthusiastic young ladies we have ever seen in our life.
Madhav : Apart from that, we have also completed the recording of two songs for another Marathi film which is being directed by Shirish Desai. The songs were sung by Hrishikesh Ranade, Priyanka Barve and Lahu himself. One song is written by Guru, and the other one is written by Manndar Cholkar.
15. With all the new FM radio channels coming up, do you think there should be an independent one for regional music and songs?
Lahu : Yes. It is the need of the hour. Especially for Marathi songs. Marathi industry suffers a lot as most people here, including Maharashtrians watch Hindi and English films rather than Marathi films. It also gets a step motherly treatment from multiplexes. When they were forced to show at least one show of a Marathi film per day, they gave a slot of the afternoon, when the footfalls are at a minimum, as all are at work. Likewise, FM channels in Mumbai play Marathi songs only for an hour on Sunday mornings when no one listens to them on the way to office. The result is that Marathi films and Marathi music suffer. So yes…Marathi music and other regional music should have dedicated FM channels, There is a huge audience for it.
Madhav : Of course there is. If you look at Marathi TV channels, you can see the popularity they enjoy. Star Pravaah, Colors Marathi are doing so well. It shows that there is a huge potential to be tapped with FM channels dedicated to only Marathi songs. It will also benefit the Marathi film industry. We strongly vouch for it.
16.Taking music into consideration, do you think social networking sites and the digital world has made music reachable to the maximum music lovers? Do you think the sudden exposure is bringing negative effects?
Madhav : Digital media is the current big thing. It has taken away the clout of the music companies which operated like monarchs in the 90s. Any artist who wanted to make a career was at their mercy. Now, social media and digital platforms have thrown open the doors between the artists and the audience. Artists share their art on Youtube and other platforms, while links are shared on social media networks and WhatsApp. All this is huge, and was never dreamt of when we were starting our careers. But, as you rightly said, this kind of exposure also has a negative side. A lot of crap singers also get the same platform. And most of the time such artists also get famous as people find them laughable. They get publicity not because they are a good talent, but because they are a good laugh.
Lahu : Yes. Every coin has two sides. The digital platforms are a big respite to genuine artists who can reach their audiences, and at the same time, they also provide a platform to cacophony.
17. If you could time travel, which era would you like to compose songs for? And for which singers?
Lahu : This is a hypothetical question, and it is difficult to choose an era. I would say we would have loved to compose for singers across time and genres like Sehgal sahab, Lata didi, Rafi sahab, Kishoreda, Mukesh, Talat, Manna Dey, Mehdi Hasan sahab, Ghulam Ali sahab, Jagjit Singh, Pandit Bhimsen Joshi, Pandit Jasrajji…but more importantly, we would have to be blessed by Maa Saraswati to compose something of their stature. Looking at the composers of yesteryears like Salilda, Shankar Jaikishan, S D Burman, Khemchand Prakash, Ghulam Hyder, Iqbal Qureshi, Laxmikant Pyarelal, R D Burman and all those greats – it would have been a hugely uphill task to compete with them.
(Both laugh)
Madhav : On a serious note, we are lucky that our music was blessed by Ashatai herself. I call her Ashamai…as she blessed us by singing our very first Marathi composition "Tujhya ni Majhya".
18. Singers and songs that you would love to listen to at any point of time, composed by other music directors?
Madhav : Phew….that would be a very huge list. I don't think we can answer that question. We have been learning "Emotions" from each and every composer and singer.
19. Your msg for our readers.
Lahu : In the olden days, artists thrived on Rajaashray, or the support of the administration or bureaucrats. Now social media and platforms have truly heralded the era of Lokaashray or the support of music loving people. So it is your duty to promote good music. Do not share cacophony. Spread melodious music. That is your responsibility.
Listen to good music. Spread good music.