People
Performing On Stage Is Always A Learning Experience – M S Lavanya
By |


Place – Nottingham, London
Fusion Music at an Open Air Theatre.
The theatre was packed to the capacity and there were people standing outside the theatre listening to the music being played. They were particularly impressed by the person playing saxophone and hence at the end of the concert they wanted to come in and congratulate the artist. They were pleasantly surprised to find saxophone being played by a girl.
M S Lavanya – The Saxophone Artist
In conversation with TheSongPedia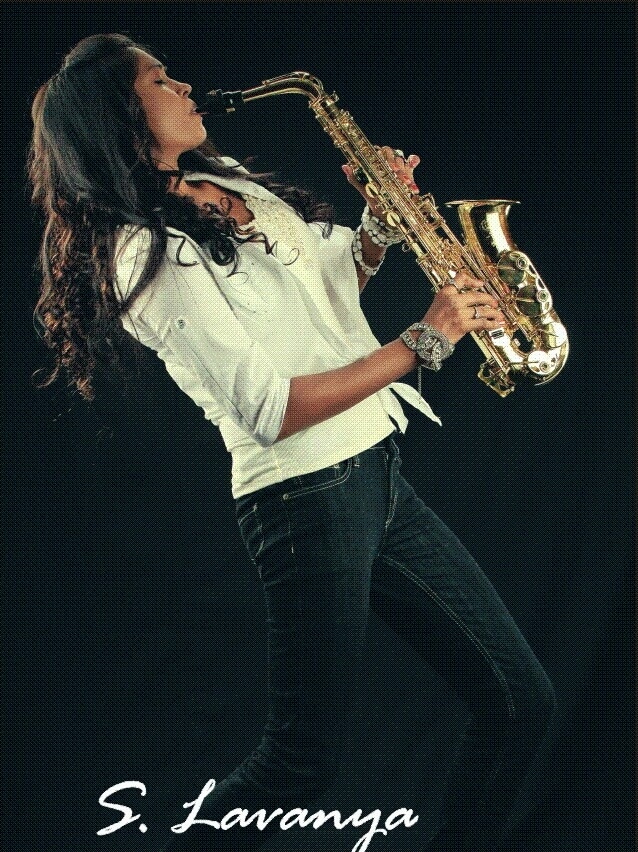 Learning Carnatic music from the age of 6 or 7, Lavanya was exposed to many types of music/singing competitions. Born into the family which had music lineage, Lavanya, always wanted to do something different apart from singing and the usual instruments which the girls played. Her grandfather was a royal musician at the Mysore Palace, while her uncles are percussion artists and her cousins play several instruments like violin, veena, flute and many other instruments. She was interested in playing adventurous music. As a small girl, she accompanied her father also a percussionist (mridangam player) to various concerts he did with Padmashree Dr. Kadri Gopalnath. Says Lavanya, "This is how I got acquainted to the instrument. I was very attracted to this kind of music and I requested my father that I wanted to pursue this, and he also requested Dr. Kadri Gopalnath (now my Guruji) to teach and guide me. My Guruji was also happy to teach me and this is how it started".
As a girl in this particular field dominated by men, she says she does face challenges. "Of course, problems are there in every field. My main challenge is energy. This is a very tough instrument and mainly it is played by men. This instrument requires a lot of energy and lot of control. It is not easy to play Indian music/ Carnatic music on this instrument because it is a western instrument and the murkis and the gamaks is not easy to play on it. It needs control of the blowing. If I feel weak, then I won't be able to play as good as I would play otherwise. So I workout whenever I find time. Playing saxophone itself is a wonderful exercise for the lungs. It works out the lungs and increases the breathing capacity. High energy food like walnuts, almonds help me in keeping up the energy levels."
She draws inspiration from whosoever is performing on stage. For Lavanya, performing with various artists and even seeing various artists on stage is always a learning experience. Lavanya further adds, "As a young girl, I used to get inspired by Michael Jackson and his performance. I'm also a great fan of Kenny G. Whenever I used to listen to his music, whether it was in the supermarket or the hotel lobby or anywhere, it was soothing and very much inspiring for me.Listening to A.R. Rehman is always an inspiration. And also, when it comes to classical music I was very impressed by Mandolin Srinivasan, M.S. Subbalaxmi, Ustad Zakir Hussain, Pandit Hariprasad Chaurasia. Whenever I used to see anybody performing good whether it is legendary artist or a normal artist, I used to get inspired and that continues till now. I pick up some points and learn from them. It helps me to practice more and compose more."
During her learning years, she had shifted to Chennai. She recalls, "Whenever I used to come to meet my parents in my hometown, people started knowing that I am playing saxophone and as it was very unique, they had not heard of any woman playing it. So they started inviting me for performing at small pooja, hawan, Ganesh festival, family get togethers etc and eventually I started performing for weddings. This is how I used to make small amount of money that used to help in a great way to my family since I come from a very humble background. We were in a critical financial condition. I had to support my family. I started earning and that motivated me again as I thought why can't I make it a career. It was only then that I realised that I can make a career out of it. Because when I had started learning, I never thought that I would take it so seriously and make it as my profession, it only started as a hobby."
Though while pursuing her hobby and later making it as her profession, she did not find much time for her academics. But she completed her 10th and then completed rest of her studies till graduation via correspondence course. But playing a saxophone made her feel special.
"Of course, because that is something special, whenever I used to perform, people started recognising me as a saxophone artist. So that itself gave me a great identity. I was very happy that no other girl was doing it. By grace of God, wherever I went I have been welcomed very beautifully and people have supported my music, my career.They have given me so much encouragement and love. Otherwise, it wouldn't have been possible. It has given me a whole new and different dimension."
Sharing stage with legendaries and renowned artist was an overwhelming experience for her. Lavanya shares her experience, "I have performed with world renowned drummer Sivamani sir. Jugalbandi contest with Pandit Ronu Majumdar and Pt. Vishwamohan Bhatt sir. Recently I have played fusion music with Naveen sir who is in A R Rahman sir's team. It was always a learning experience. I used to be very amazed with their control, mastery, their knowledge. I am very fortunate to be sharing the stage with them. I have also played fusion concert with Grammy award winner Manoj Varghese. I have done lot of shows which are special to me and I consider myself to be very lucky to get a chance to perform with them. And I have also performed for A.R. Rahman sir for his South Indian films. A R Rahman is also my all time favourite artist. I'm also looking forward to working in the Hindi film industry with music directors such as Pritam, Salim-Suleiman, Amit Trivedi etc."
Apart from all the stage performances, Lavanya has also made audio CDs of South Indian classical music and is looking forward to release of fusion CDs made by her, which she says will release in 3-4 months.
For Lavanya, music is everything. It has enriched her in all the ways – "If you take out music from my life, there's nothing left. I'm not very keen on settling down in family life right now, don't know about future, but I want to dedicate my time and energy to music. I've visited 18 countries so far for fusion concerts and performances with the foreign artists."
In her message to the music lovers and our readers she says, "If you are passionate about anything, go for it. Make a resolution to yourself and then don't look back. Give your 100 percent dedication, hard work to whatever you want to do in life, not only music, but in every other field, be it painting, dancing or any other thing. You have to give your time and patience. I took 13 years to master the instrument, but I'm still learning something or the other every day. I'm still a student of music. The learning experience itself is the foundation of your life. Experience joy and happiness like I did in this entire process of learning. You don't get success overnight, you have to give lot of sacrifices."