People
Writing Songs Makes Me Feel I'm Alive – Pinky Poonawala
By |


Rehnuma Rehnuma
Khoya khoya tha har ek lamha
Dhuan dhuan thi raahein tanha
Likhi tu ne meri dastan
Apne hi rang se aye khuda
Madhosh hai yeh fiza
Rehnuma rehnuma tujhse roshan hai jahaan
Teri hi thi arzoo
Ab tu mere roobaroo
Mehka hai tujhse alam
Mere sang sang hai tu hardam
Tu hi toh mera hai khuda
Rehnuma rehnuma tujse roshaan hai jahaan
Dil ki meri dhadkane
Teri meher se hi chale
Tere noor se roshan mehfil
Jaane meri saansein tah-e-dil
Tu hi mera rehnuma….
Rehnuma rehnuma tujhse roshan hai jahaan

What a beautiful way to hail the heavens above, to salute the almighty. The lines are so pure and veritable. The above song was rendered by Sreeram Chandra at the finals of Indian Idol 2010, which in turn won him the title. And this beautiful song has been written by a person with a beautiful mind (not to forget a beautiful face too).
Pinky Poonawala (Jia) – The lyricist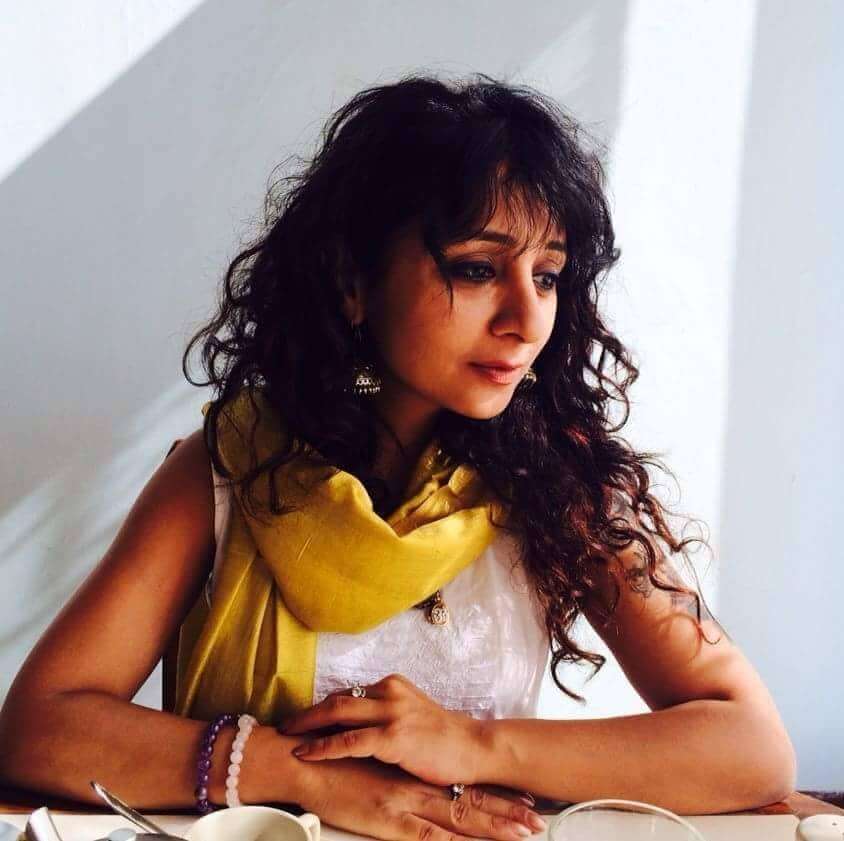 Pinky Poonawala (Jia)
In conversation with TheSongPedia
Everyone has some childhood memories about their associations with a song or a film which remain as treasure in future. Recalling her childhood days and her first association with music, Pinky says –
"My mom took me to kathak dance classes when I was around 3 yrs of age, I also performed on stage as a child artist and at around age 9, received Shankaracharya award in Pune for dance, that is my first memory of association with music – via dance!!! As a child I never understood religious discrimination and idol worship. I was always fascinated by magic and mysteries of the universe and questions like why are we here? That is still the theme of my life!"
Now that she is a lyricist, dancing her way into people's heart through her songs, what made her choose to become a lyricist?
"I didn't choose it. This profession chose me! I look at it as a divine play. After assisting and working on various films like Swades, I went through a period of bad health and could not get back to shoots, that gave me lot of time to realize I am not enjoying my current work profile, at the same time a friend Mizo called me to help out a new composer from Kolkata by writing few lines on his tunes. I didn't know I could but I gave it a shot. One thing led to another and someone heard these scratches, recommended me for a song done for winner of Indian idol 5. I penned the song called Rehnuma sung by Sreeram Chandra and it then got me Gima and Radio Mirchi debut nominations. It was also used to promote Hollywood film Chronicles of Narnia in India! Since then there has been no looking back.
We don't find many women lyricists and she adds happily that it makes her feel special. But ask her about the reason as to why there are few woman lyricists around she adds –
"On a serious note, I guess the erratic work timings and composers who get inspired late at nights and need a lyricist present in the studio at that time to pen a few lines might be the reason for fewer women lyricist in the industry. Also our films are more hero oriented and so are most songs. Maybe that's why a male lyricist's point of view is preferred but I don't really agree with this. A writer is a writer and has to put herself/ himself in the shoes of the character to express the emotional journey, male or female!!!"
She was greatly influenced by the golden era movies and songs, as a young girl. Pinky enthusiastically adds, " Growing up I heard a lot of ghazals ( Jagjit Singh ji) non film, classical songs and black n white movie songs that my father heard on radio. Looking back, I don't really understand how as a kid I understood the meaning and depth of these songs. My mom is a writer/poet that I guess played a part too."
Talking about her present work she says she doesn't face any sort of difficulty in the field, even if she's a woman. She feels it is divine play and she was meant to be doing this. She found her love and enjoys her work!
"I have been blessed to work with very talented artists like Papon for Coke studio season 3 song Benaam Khwaayishein which received lots of love!
Artists like Kaushiki Chakraborty ( Album Karvaan), Agnee song Silsila for Roadies, Coke studio song – Tere bin main sung by Richa Sharma, Bombay Jayshree, Ustad Rashid Khan etc. Also Sunidhi Chauhan, Nikhil D'Souza, Arijit singh, Neeti Mohan, Sreeram Chandra, Mohan Kannan, Ambar Das, Ash King, Antara Mitra, Mohammed Irfan, Raman Mahadevan – have given voice to my words. Some released and some on their way.
Working with all these talented artists makes my life a story of love and magic!"
"In 2016 I also featured in a song Bheege Hum composed and sung by Sourabh Joshi. Words penned by me, and the song featured both of us. It was an experience I can't forget! Looking forward to more such exciting opportunities to grow and experience new things!
The young lyricist who would love to see her song picturized on Shah Rukh Khan one day, is happily married to her co artist and is an extremely sensitive person –
"Well I married one of the artists ( Sourabh Joshi), that story tops all others right now. (laughs heartily)
But yes other than that, I am an extremely sensitive person and every time someone sings my words well in studio, I either cry or hug the singer in the middle of work. I am almost compelled to do so and that I feel must be making them think – she is funny! I find that funny about myself!!"
For Pinky, a sensitive person, driven by her heart, her work is not tedious. Her motivation to write?
"Love. It's not a job for me. It's love!
It makes me feel I am alive, I am me.
This is me not just a daughter, sister, wife, friend etc – but me! Knowing yourself. Knowing your love is an enriching and blessed experience."
Her future projects –
"I have signed couple of films, also I am currently working on a few ad jingles and brand songs.
I am really looking forward to a few non film singles penned by me to release this year!"
"Stay connected to self. Listen deeply to your inner voice and the music of that silent voice will guide you to your love. I would like to thank all for loving my songs. It keeps me going!" – is what this young, talented lyricist has to say in her message to the music lovers and readers.
You can follow her on Facebook