People
Manek Premchand – A Beacon For Music Travellers
By |


Sometime back I was reading about a song from Kismet (1943), Dheere dheere aa re baadal, a wonderful song picturised on Ashok Kumar and Mumtaz Shanti. Further reading about it put me into a sort of confusion. Some said that the male voice was that of Ashok Kumar, while others said it was Arun Kumar Mukherjee. Bit of a dilemma, what do I do? Refer to a book called Romancing The Song. And as I was sure, I found my answer there. Then again one day had a thought as to who might have played the whistle in Ye shaam mastani from Kati Patang (1970). I refer to a book called Hitting The Right Notes and get my answer!! Apart from Hindi film music, what connects both the books mentioned above? Its author – Manek Premchand. He has authored 5 books – Yesterday's Melodies, Today's Memories; Musical Moments From Hindi Films; Romancing The Song,Talat Mahmood – The Velvet Voice and Hitting The Right Notes.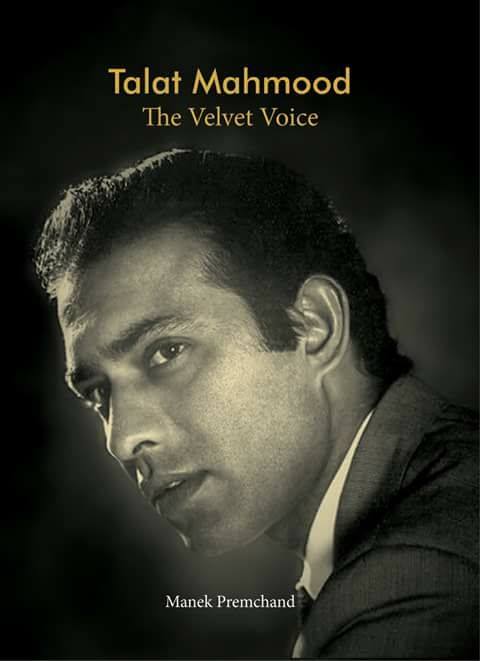 Biography – Talat Mahmood – The Velvet Voice
So for a person who breathes and lives music, how did music come into his life? Here's what he has to say, "My earliest memories of music take me to Delhi, when I was 5 or 6, in tow with my music-obsessed mother, the last of her six children, she perhaps using cautious optimism in expecting at least this, her last child to show a musical ear. She would sing her bhajans at our home and friends' baithaks, in the local gurdwaras, playing her tambura as she sang. She would also enjoy Sufi kalaams and sing them, as also songs that had meaningful poetry, of Sahir and Shakeel, Rajinder Krishan and Shailendra, all the greats, expressed through the voices of Rafi and Lata, Manna Dey, and what have you!!"
His mother being the greatest influence for his interest in music, Manek Premchand further adds, "By my 10th birthday, she was sure there was minimum critical mass of music interest in me, so I was gifted a beautiful bulbul tarang as my birthday gift. Now the local players became my inspiration. We had moved to Bombay by this time, and my family was close to Jani Babu qawwal, who also stayed a few minutes away from us. He got me a teacher to play the Bulbul tarang—at his own home—and that brought me somewhat close to the debonair qawwal. I was amazed to see how much these guys practised, together, after their individual riyaaz, every day. Qawwalis usually have meaningful words in them, and I don't mean the inane alcohol-centric qawwalis that arrived later. Sometimes the lyrical content was heavy-duty. That cemented my respect for good poetry."
A man for whom music is a passion, writing his first book on his favorite subject wasn't a cake walk. His first book Yesterday's Melodies, Today's Memories was started in January 1997, and took nearly 7 years to be published. But for him working on a monochrome monitor of his computer, with Wordstar and DOS, was fun. Meeting many many great people who had helped make the great tunes in the wonderful years we now called the Golden Era of Hindi film music. The book was initially to be titled as Tidal Wave, as according to him it was a huge kind of tidal wave that visited our shores for some 20 plus years, a time when all boats rose, in a metaphorical kind of way. Later, this working title was dropped because it did not have the slightest hint of music in it. In fact, it may even have ended up sounding scary, suggesting a tsunami kind of feel!!!
There's so much to learn from this. A lengthy work might make you tiring, but when your work becomes your passion or vice versa, it gives contentment at the end. You get that feeling of triumph in his words, when he says, "It was tiring but simultaneously exciting to meet people like Manna Dey, Majrooh, Prem Dhawan…dozens of gifted singers, composers, writers…really wonderful! All these interviews are with me on cassettes, thank God, and one day I'll upload them in toto."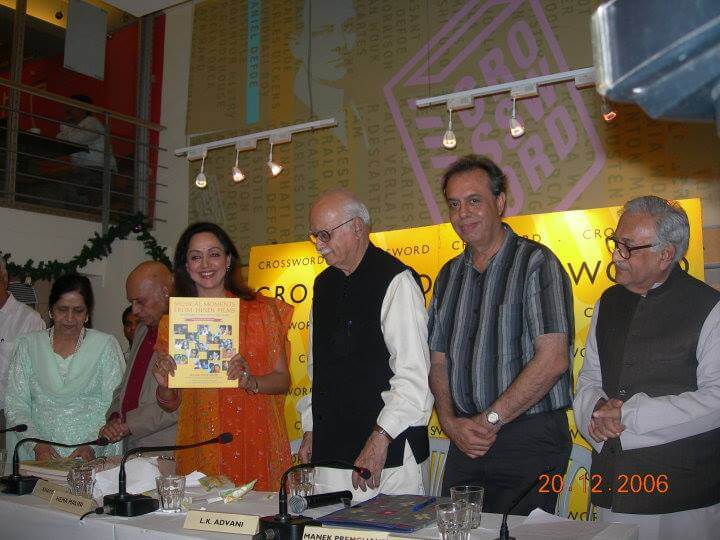 Book Release – Musical Moments From Hindi Films. L- R : Jagjit Kaur, Khayyam, Hema Malini, L K Advani, Manek Premchand and Ameen Sayani
Without being hesitant about the challenges which might pop up in choosing the subject, Manek Premchand has escalated ahead with his passion. Right from the vast subject of Hindi cinema and its music to the attitude of the people. For him it wasn't the tediousness of the work that challenged. It was the attitude that many of us have towards film music. He remarks, "Many of the elite in our society often understand nothing of the nuances of classical music—western or Indian—but will have you believe they understand most of its refinements. But when they talk of Hindi film music, they are dismissive about its value. They think it's pedestrian. Indeed some of it is so. But we need to separate the good from the bad, only so that we can find exceptional value staring us in our face, or should that be touching our hearts and minds? I feel we need to revisit our thoughts and consider what an unbelievably vital role our popular film music has essayed in gluing us together. This needs a few minutes reflection in an independent way, not in the perceived wisdom of other people, who may in turn have received their thoughts from others still."
The Changing Face of Lyrics in Hindi Cinema – senior fellowship from the Ministry of Culture is a mini version of his book Romancing The Song. Though the book does not have any message, its raison d'etre was only to plot the journey of lyrics in Hindi cinema from 1931, till 2012. A chronicle of the cultural dynamics of Indian society over those 80 years. Speaking about this chef d'oeuvre he says, "Romancing The Song was written as a swim against the tide. It was, and is, an effort to correct some of the step-motherly treatment given to lyrics in recent times. But it is also a salute to great writers and their work. For many reasons, some of them understandable, literary values have been going down over the decades. This has hit poetry especially. Now in most songs, we need good lyrics, a good tune and instruments, and also a good voice, Apart from that, we need songs to be recorded well. Take away the merit of any one of these, and the product becomes ordinary. I believe one reason our songs don't have a great punch now is because we do not have great lyrics." It was also the most rewarding work for him. He almost felt like a mother helping a child who needed the help most.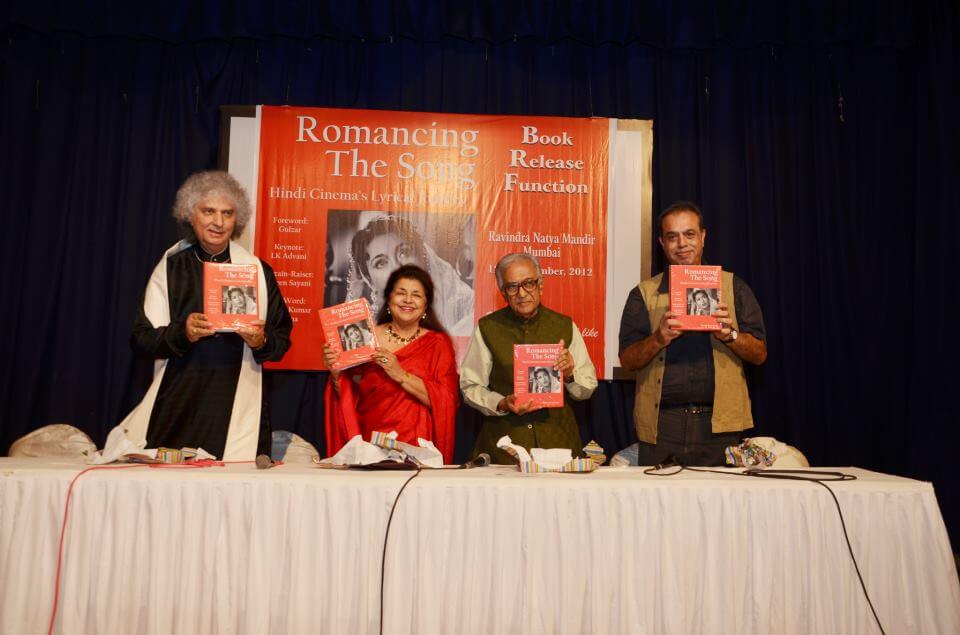 Book Release- Romancing The Song : L to R – Pandit Shiv Kumar Sharma, Sudha Malhotra, Ameen Sayani and Manek Premchand
There have been many milestones in the journey of Hindi film music, both good and bad. In Calcutta in the 1930s, a man called BN Sircar was such a huge patron-of-the-arts, allowing many talents to bloom, like Saigal and RC Boral and Pankaj Mullick. In Bombay we had Himanshu Rai and Chandulal Shah, and these gents were followed by great filmmakers like Mehboob Khan, Bimal Roy, Guru Dutt, Raj Kapoor, Mrinal Sen, V. Shantaram, Hrishikesh Mukherjee. Dozens of others. We have also had classical musicians who passed through our films, shining like meteors in our musical skies. There have been songwriters of significance, dozens of them again. Great composers who stretched for originality of tunes and instrumentation. Singers who offered originality of expression, so different from the atmosphere today. Let's just say everyone was enthused with the mission of doing something good, with the assumption that money would follow. Now, it's money first, let's talk about art later. When you change orientation to that, perhaps you'll never go hungry, but neither will you leave a legacy for people to remember you by.
As he specified these turning points in Hindi film music, we have another book from him (the latest gem in his repertoire) – Hitting The Right Notes. It beautifully explores all the said points above and much more. There are essays on parallel harmony and counter melody, as also on songs that end on a high pitch and why they are made to do so. A myriad of facets of music, the significance and some wonderful examples. He puts in, "Hitting The Right Notes needed an easier way to access than putting the various stories in a common cauldron, so to say. That's why the five headings happened. In fact, in the Many Splendored Aspects heading itself, there are so many subheadings, all that a reflection of the myriad facets of the huge superstructure of Hindi film music. Curating it in such divisions, and reading them selectively, has made the book more enjoyable."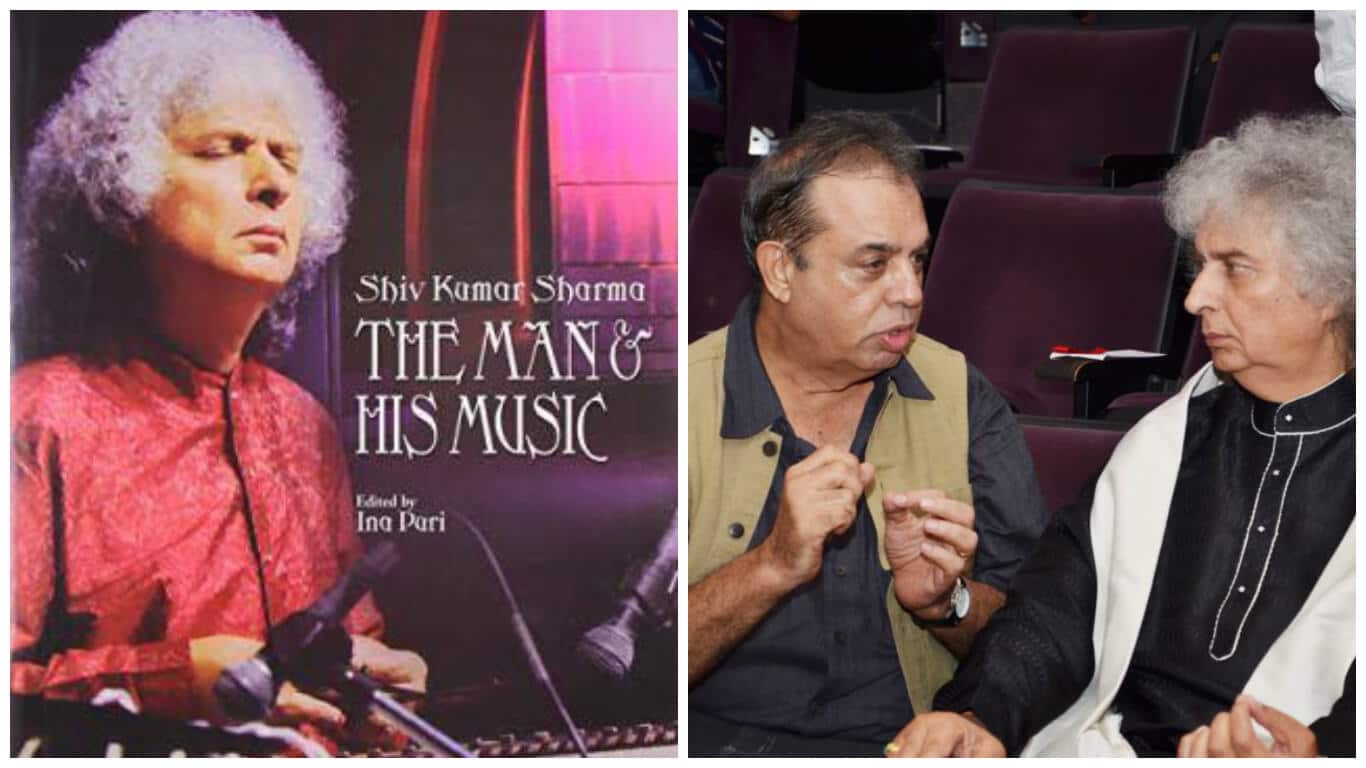 L – Biography of Pandit Shiv Kumar Sharma. R – Manek Premchand with Panditji
A man with many hats, Manek Premchand, has also helped writing the biography of Pandit Shiv Kumar Sharma, compiled songs for CDs for Saregama, hosted shows on WorldSpace Satellite Radio. To top all this, he has also written a biography on Talat Mahmood. Why Talat Mahmood? He adds, "Talat Mahmood was a favorite of both my mother, and later mine. There was something so soul-stirring about his expression, it was beyond just velvet. Ineffable quality, I suppose. I was so awe-struck, for the first few years, I would just go listen to him in different locations, and glean everything even in the green room, before the show began. No one even noticed me, so I would be like a fly on the wall! He was an amazing man, with a wonderful voice, and some expression when it came to ghazals. Later too, when I got close to him, it was like magic. My book on him was a way of saying "Thanks Talatji, for the hundreds of hours you gave me joy…and sometimes tears". I do believe what Alexander Pope said: "The soul would have no rainbow, had the eyes no tears". I owed Talat saab the sight of many rainbows. The book done, I sleep better".

Manek Premchand's exclusive interview with Talat Mahmood's son, Khalid Talat Mahmood
His motivation behind writing all these books are the emotional rewards. As he views, "Most writers don't make money as you probably know, and this is true around the world. But the emotional rewards can be incalculable. The best part is, when one writes, one has to research too, and also think a lot. Only then can one expect any results. If one loves the subject, then all this thinking and researching, and the hours of sculpting a story, become insignificant. When someone likes your work, the feeling cannot be described, so it is enriching."
He also informs that the third edition of Yesterday's Melodies, Today's Memories is already in the offing for this year, plus a companion volume to Hitting The Right Notes. Aren't we looking forward to these? For music travellers like me and many others like me, his books usher on so many right paths. He is the dependable beacon, the guiding light in a way for the music travellers.
As Ameen Sayani writes in the foreword to Hitting The Right Notes – Manek Premchand is not only one of India's finest musicologists of Indian film songs, but also an author with a delightfully graceful style.
We now await his next magnum opus!!
PS: Music lovers who would like to get more insights on music from Manek Ji, he can be reached on manekpremchand@gmail.com or 9820362010
PPS: You can buy Manek Ji's books on Amazon