Collections
When Vijay Anand donned the hat of an actor
By |


Not many know acting was his first love, writing and direction, his hidden talents were gradually discovered. He also had flair for editing films and writing lyrics. The multifaceted master director Vijay Anand aka Goldie Anand.
Vijay Anand has had a miniscule career as an actor. He was not a conventional hero like Dev Anand. He gained as an intense actor in Kala Bazar, Haqeeqat, Hindustan Ki Kasam, Kora Kagaz and Main Tulsi Tere Aangan Ki. In Tere Mere Sapne, one can see a very sensitive actor surfacing out of him. But somewhere after that he seemed to have lost form, focus and commitment towards cinema. With films like Double Cross, Chhupa Rustam, Chor Chor and some more negligible films. His tryst with television as an actor in the serial Tehqiqat (1994-95), playing the detective Sam D'Souza, showed flashes of his earlier brilliance. As an actor, though he was just above average. He started as a hero in Agra Road (1957) but could never make a mark in that capacity. With his small stint as an actor, he returned to what he was best at – direction & writing.
Though this journey was a small one, he has songs picturised on him. Few are timeless while others are average to shoddy.
Here's remembering Vijay Anand, as an actor through some of songs picturised on him.
1. Agra Road – His debut as an actor. Spreading his boyish charm in the song with Shakila.
2. Haqeeqat – The eternal war movie made by his elder brother Chetan Anand. The song picturised on Vijay Anand is timeless. He looks charming in a soldier's uniform. His mannerisms very similar to Dev Anand.
https://www.youtube.com/watch?v=N0oZIbjIMgI
3. Kora Kagaz – Keeping his acting skills at par with Jaya Bhaduri, this song is a fun to watch…….."Wo baithe hain kuch aise…" watch this stanza and enjoy the expressions of both the actors!!
4. Chhupa Rustam – Watch Vijay Anand yoddle (playbacked by Kishore Kumar) and shake a leg with Bindu in this funny song!!!!! He just cannot run around the trees.
https://www.youtube.com/watch?v=P59N8JY5eQU
5. Double Cross – Vijay Anand with Rekha!!!! Weird combination, where both look uncomfortable, weird wig worn by him. We are glad he continued with what he was at his best – direction and writing.
Kala Bazar, had all the 3 Anand brothers acting in it. It was an added advantage that Vijay Anand was directing it. Vijay Anand proves his directorial capabilities as well as his acting.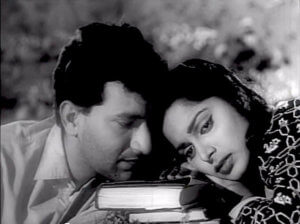 Doing a small role opposite Waheeda Rehman in "Kala Bazar", Vijay Anand looks delightful on screen with her, sharing beautiful chemistry built on fondness and wisecracks.
Then there was a delightfully refreshing romantic comedy starring Dev Anand and Nutan.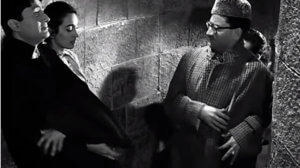 "Dil Ka Bhanwar kare pukar………." with magnificently shot sequences in Qutub MInar. Vijay Anand gives a cameo appearance as one of the visitors. Coming face to face with the 2 lovers, giving them sneaky glances and impish smile.
A director par excellence, Vijay Anand's acting skills came through when he starred in the above films. A perfect mix of art and command!!!